SunnyCal Solar announces the new Collapsible Solar Array for Off-Grid application. The Array is optimized to be collapsed for shipping, and rapid setup in less than 30 minutes. The structure can include 1500W of PV modules and a "Daylight Inverter" that powers the AC outlet whenever the sun shines; no batteries required. Screw anchors and anti-tamper bolts are available.
Jackson, CA: Today SunnyCal Solar, Inc., a solar products company specializing in "personal solar" products, announced the first in a series of new products that enable grid-free power.

Collapsible solar arrays can be shipped fully assembled, and can be unfolded to an upright position, producing power immediately. The innovative lightweight structure can include up to 1500W of solar panels, and a unique "Daylight Inverter", that powers a 120V receptacle whenever the sun shines; no batteries required. A custom designed screw-in anchor system and tamper resistant screws enable secure installation.
SunnyCal CEO Steve Dollens said: "Our customers are seeking grid-free power solutions. The Collapsible Array is a direct result of our efforts to enable personal power for disaster-stricken areas like Central California and Puerto Rico." The Array fills the power gap between disaster and power restoration.
Upcoming personal power products include: Daylight Inverters for AC well water pumps, solar metal roofing and self-powered greenhouses.
About SunnyCal Solar, Inc: SunnyCal Solar has been installing turnkey solar systems since 2006. SunnyCal also established The SunnyCal Solar Store, supplying innovative power products for consumers and solar contractors. http://sunnycalsolar.com/products/prefab-fema-1.html or contact at info@sunnycalsolar.com
Featured Product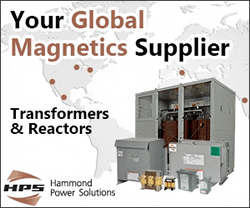 HPS is the largest manufacturer of dry-type transformers in North America. We engineer and manufacture a wide range of standard and custom transformers that are exported globally in electrical equipment and systems. We support solid industries such as oil and gas, mining, steel, waste and water treatment, and wind power generation. HPS leads the industry in these markets through its technical design strength, breadth of product, and manufacturing capabilities, making HPS a stronger company both fundamentally and financially.