CPUC approves utility plans to support vehicle electrification and a resolution favoring clean energy over fracked gas
San Francisco, CA-- Today the California Public Utilities Commission (CPUC) took a massive step toward a clean energy future by passing a resolution that will order Pacific Gas & Electric, one of the nations largest electric utilities, to buy clean resources instead of relying on gas plants and by approving 15 pilot programs to support electrification of cars, trucks and buses through infrastructure deployment and other measures, which will be implemented by the States three investor-owned utilities.

Last year, the owner of three gas plants (Yuba City, Feather River, and Metcalf Energy Centers) told regulators that it would retire three northern California power plants owing to low market prices. Regulators signed expensive stop-gap contracts with these plants to keep them online to meet local needs, but by passing this resolution the CPUC ensures that those contracts will not be extended. The resolution passed orders PG&E to solicit new renewable generation or energy storage facilities to satisfy local needs. This resolution delivers a series of benefits beyond local grid services. By directing the purchase of new, non-emitting resources, the resolution will reduce greenhouse gas pollution, improve local air quality, and remove a lifeline to uneconomic gas plants.
"What the CPUC is saying here is anything gas can do, clean energy does better, whether it be providing cost-effective electricity or balancing the grid and enhancing reliability." said Katie Ramsey, an attorney with the Sierra Club. "The door is not only closing on new gas plants, but renewable energy and storage now present a cost-effective alternative to existing gas plants. This is what a transition off fossil fuels looks like. We applaud the Commission for its leadership and look forward to more of this to come."
The 15 pilot programs approved today were first filed by San Diego Gas & Electric (SDG&E), Southern California Edison (SCE), and Pacific Gas & Electric (PG&E) in January of last year in response to a CPUC order requesting small pilots to test new ideas or technology applications to further electrification across vehicle sectors, in addition to larger projects. The CPUCs request was made as a result of Senate Bill 350, passed in October 2015, which directs the CPUC to order the states utilities to advance widespread transportation electrification in California. The pilots approved today include: electrification of goods movement equipment at the Port of Long Beach, one of the countrys busiest ports (SCE); infrastructure investment to support the use of an electric school bus to integrate renewable energy (PG&E); and the installation of clusters of fast charging stations in urban areas to support charging by EV drivers without regular access to overnight charging (SCE).
"California's regulators, utilities and stakeholders continue to set the standard for creative and impactful vehicle electrification projects," said Sierra Club Attorney Joe Halso. "These programs will begin to unlock the full potential of electrification, particularly in the medium- and heavy-duty vehicle sectors, where emissions from fossil fuel-powered vehicles threaten the health of millions of Californians."
###
About the Sierra Club
The Sierra Club is Americas largest and most influential grassroots environmental organization, with more than 3 million members and supporters. In addition to helping people from all backgrounds explore nature and our outdoor heritage, the Sierra Club works to promote clean energy, safeguard the health of our communities, protect wildlife, and preserve our remaining wild places through grassroots activism, public education, lobbying, and legal action. For more information, visit www.sierraclub.org.
Featured Product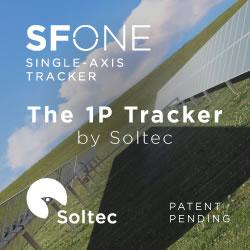 Soltec manufactures and supplies solar trackers designed and proven for extreme climate conditions, which is an ideal solution for any region's environment. Soltec's trackers are self-powered, requiring no additional PV module or grid-powered connection. Bifacial modules collect energy on both the front and rear sides, capturing reflected irradiance from the ground surface under and around the tracker and from other modules. Depending on site conditions, bifacial yield-gain can reach +30 percent.