New Jersey, New York and Connecticut make major moves this week
WASHINGTON, D.C., Feb. 2, 2018 — The American wind power industry expressed its thanks to leaders up and down the Atlantic Coast for advancing offshore wind projects that can create 40,000 jobs within a decade, revitalize ocean ports, and power millions of homes with clean energy.

"Unlocking Americas vast offshore wind potential will reliably deliver large amounts of clean power, grow jobs, and cement American energy leadership," said Tom Kiernan, CEO of the American Wind Energy Association. "Some of the worlds most powerful wind turbines will now flow from new investments in Americas port and manufacturing infrastructure. We are grateful to governors Phil Murphy of New Jersey, Andrew Cuomo of New York, and Dannel Malloy of Connecticut for recognizing the enormous potential for clean energy off their shores, and acting to make it a reality as soon as possible. This is what visionary leadership looks like."
Newly sworn-in New Jersey Gov. Phil Murphy announced on Wednesday, Jan. 31, that his state will move ahead with 3,500 megawatts (MW) of offshore wind by 2030, enough to power over a million homes. Murphy said he wants to "begin the process of making New Jersey a leader in offshore wind, a critical step toward achieving our clean energy goals." He directed the New Jersey Board of Public Utilities and the New Jersey Department of Environmental Protection to establish an Offshore Wind Strategic Plan focusing on job growth, workforce development, data collection, and protection of offshore natural resources.
"Gov. Murphy has immediately put New Jersey at the forefront of the global offshore wind industry," said Riccardo Toto, CEO and President of US Wind, which holds leases off New Jersey and Maryland. "By growing the U.S. market, this will help foster a more robust U.S. supply chain, and further drive down costs to the benefit of consumers who now pay some of the highest power prices in the nation."
"The U.S. is in a prime position to take advantage of the positive developments in the offshore wind industry, including rapid cost declines and innovative technologies," said Thomas Brostrøm, President for North America of Ørsted, which holds leases off Massachusetts, New Jersey, and Virginia. "Recent commitments by New Jersey and Connecticut build on a foundation of projects along the East Coast and enable the efficient growth of this clean energy industry and supply chain. Ørsted is invested in bringing this thriving industry to the states and supporting the U.S. development of this large-scale, reliable clean energy."
New York issued its new Offshore Wind Master Plan earlier this week. New York Gov. Andrew Cuomo said his state is seeking offshore wind farms totaling 2,400 MW (equal to about five fossil fuel-burning power plants). New York is aiming at a 16,000 square-mile section of the Atlantic extending from New York City and the south shore of Long Island. Statoil won the first lease in New York in 2016 for an area 20 miles south of Long Island where it plans a 600-megawatt wind farm called Empire Wind. Once it finds a buyer for the power, construction could begin in 2023. Cuomo in January announced two initial solicitations for a total of 800 MW in 2018 and 2019, plus $15 million for training and port development.
Connecticut recently announced an RFP for clean energy as well, which includes up to about 220 MW of offshore wind power.
A new study coauthored by New York, Massachusetts, Rhode Island, and the Clean Energy States Alliance, U.S. Job Creation in Offshore Wind, finds that 8 GW of offshore wind from Maryland to Maine will create almost 40,000 full-time U.S. jobs by 2028; 86 GW by 2050 would support 160,000 jobs.
"The visible market for offshore wind in America is now more than half the entire global installed capacity, including all the policy commitments made thus far," said Stephanie McClellan, Director of the Special Initiative on Offshore Wind at the University of Delaware. "These states' commitments mean the U.S. is going to be the 800-pound gorilla in global offshore wind."
Trump Administration officials have signaled their support for offshore wind, including by issuing draft guidelines in January for a "design envelope" approach. It enables developers to advance faster through permitting while making some business decisions later in the process - such as which turbines to use. BOEM is seeking industry input before finalizing the guidelines, and held a webinar on Jan. 31 for wind developers to weigh in.
"The Outer Continental Shelfs offshore wind potential is a tremendous asset and part of the administrations America-First Energy Plan to make it easier for industry to do business here," said Interior Secretary Ryan Zinke when BOEM announced the guidelines. "And now more than ever, we must use every tool at our disposal to ensure an energy-secure future - one that promotes jobs and is affordable, competitive and safe. Offshore wind will play a big role in this future."
BOEMs announcement also cited the Department of Interiors Counselor for Energy Policy, Vincent DeVito, who said, "The offshore wind industry is moving at a phenomenal pace and Im proud to announce that this Administration is working with industry and stakeholders to make the renewable energy development process quicker, cheaper and more competitive with the rest of the world."
###
AWEA is the national trade association of the U.S. wind energy industry. We represent 1,000 member companies and over 100,000 jobs in the U.S. economy, serving as a powerful voice for how wind works for America. Members include global leaders in wind power and energy development, turbine manufacturing, and component and service suppliers. They gather each year at the Western Hemispheres largest wind power trade show, the AWEA WINDPOWER Conference & Exhibition, next in Chicago, May 7-10, 2018. Find information about wind energy on the AWEA website. Gain insight into industry issues on AWEA's blog, Into the Wind. And please join us on Facebook, LinkedIn and follow @AWEA on Twitter.
Featured Product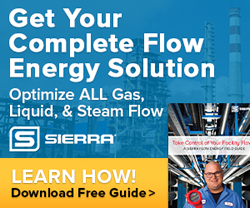 Download Flow Energy Guide - Written by Engineers For Engineers. Learn how to save on energy costs by optimizing your facility flows that impact costs like compressed air, natural gas, steam, and hot or chilled water.