New footage highlights coexistence of marine life and offshore wind
WASHINGTON, D.C., Feb. 14, 2018 — Americans can now preview whats in store for coastal communities, and the fish many depend on, as offshore wind development builds steam in the U.S. The American Wind Energy Association (AWEA) and the Special Initiative on Offshore Wind (SIOW), based at the University of Delaware, released a new video today that features never-before-seen underwater footage of fish feeding at Americas first offshore wind farm, as well as testimonials from local recreational fishermen and charter captains.

Offshore wind is scaling up in the U.S., with the federal government and states including Massachusetts, Rhode Island, New York, New Jersey, and Connecticut all taking significant actions recently to boost demand for this new ocean energy resource. Americas first offshore project, the Block Island Wind Farm, was completed just over a year ago, in late 2016. Since then the sector has only grown hotter.
"Were in the process of unlocking an entirely new American ocean energy resource with offshore wind. As the industry scales up in the U.S., communities up and down our coasts, especially in the Northeast, will want to know what offshore wind means for them," said Stephanie McClellan, Director for SIOW. "When it comes to fishing, the science is convincing, but ultimately seeing is believing. Thats why we took an underwater videographer to Block Island to see for ourselves."
"There's a frenzy of fish and other marine life making a new home near the Block Island turbine foundations, which act as artificial reefs," said McClellan. "U.S. energy consumers and workers aren't the only ones excited to see offshore wind come to American shores. Marine life is thriving, as studies confirm."
Block Island residents, including fishermen, have been pleased with the results a year after the wind farm came online. Electricity rates are down, tourism is up, and the island has access to high speed internet for the first time because of the project. One of those residents, Chris Hobe, is captain and owner at Fish the World Charters, a small business that has seen new opportunities taking tourists to see the turbines up close.
"During the charter season I was taking people out to the wind farm almost every day," said Hobe. "Even though I wasnt out there to fish, Im always scanning the bottom and its clear there are a lot of fish active at the wind farm. People never used to fish that spot before the turbines, and now its really popular."
A recent study from Europe, where hundreds of offshore wind turbines are already installed, found that a single turbine can support up to four metric tons of shellfish, which in turn attracts fish to the area.
"Offshore wind is great news for sports fishermen," added McClellan. "And the wind industry is committed to making offshore wind work for the entire fishing community. We strongly believe American fishermen of all stripes can prosper while we develop this new American ocean energy resource."
###
AWEA is the national trade association of the U.S. wind energy industry. We represent 1,000 member companies and over 100,000 jobs in the U.S. economy, serving as a powerful voice for how wind works for America. Members include global leaders in wind power and energy development, turbine manufacturing, and component and service suppliers. They gather each year at the Western Hemispheres largest wind power trade show, the AWEA WINDPOWER Conference & Exhibition, next in Chicago, May 7-10, 2018. Find information about wind energy on the AWEA website. Gain insight into industry issues on AWEA's blog, Into the Wind. And please join us on Facebook, LinkedIn and follow @AWEA on Twitter.
Featured Product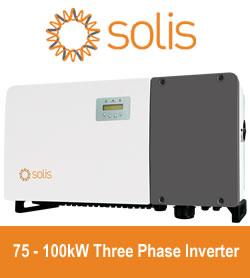 Solis75kW - 100kW series high-power string inverters are widely used in industrial and commercial rooftops. Solis's new three-phase string inverter is the first choice for industrial and commercial photovoltaics. 75-100kW three phase series string inverter have Maximum 28 strings input, support "Y" type connection in DC side. Maximum string input current 13A, support bifacial modules access.Supports anti-PID function to improve system efficiency.