The patented QClick technology enables module clamps to easily click into the rail channel and remain in an upright position, ready to accept the module.
WALNUT CREEK, CA, February 15, 2018 - Quick Mount PV today announced QRail™, an innovative new rooftop racking system featuring patented QClick™ and QSplice™ technologies that simplify and speed installation. QRail combines with Quick Mount PVs industry-leading waterproof mounts to create a complete, fully-integrated racking and mounting solution for installing solar PV modules on any roof.

"With QRail, we now have what our customers have been requesting: a comprehensive, cost-effective single-source solution for solar installation on all roof types," said Quick Mount PV CEO Claudia Wentworth. "And because of the QClick and QSplice technologies, solar installers will find that QRail exceeds their expectations for quality and ease of installation."
The patented QClick technology enables module clamps to easily click into the rail channel and remain in an upright position, ready to accept the module.
QRails QSplice is the fastest, most efficient splice in the industry—a tool free, bonded, fully-structural splice that installs in seconds with no tools or extra hardware required.
Electrical bonding is fully integrated into every system component. All electrical bonds are created when the components are installed and tightened down. QRail is fully code compliant, certified to UL 2703, and backed by a 25-year warranty.
QRail is designed and engineered for strength and versatility. The aluminum QRails come in three sizes, Heavy, Standard and Light, to match all geographic locations. QRails are available in 168-inch and 208-inch lengths, and in both mill and black finish.
For optimal versatility, the QRail system is compatible with virtually all PV modules and roof attachment systems. Modules can be mounted in portrait or landscape orientation in either standard or shared rail configurations.
QRail comes with QDesign, a free online design application that enables quick and easy design of solar arrays, producing a precise bill of materials and all necessary engineering reports.
Visit quickmountpv.com for complete information on the QRail Series and all Quick Mount PV products.
# # # #
About Quick Mount PV
Quick Mount PV manufactures code-compliant, waterproof solar mounting and racking systems for installing solar electric and solar hot water systems on residential and commercial rooftops. Founded in 2006, Quick Mount PV is committed to sustainable business practices, ongoing industry training and education, and manufacturing the highest-quality solar roof mounts and racking systems in the industry. For more information, visit www.quickmountpv.com.
Featured Product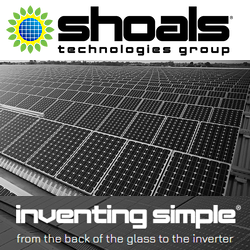 Inventing Simple® isn't just a slogan to us, it's a way of life. Using simple plug-and-play ideology, we revolutionized solar installations in 2003 with our Interconnect System™. Our harnessing system is now the gold standard EPC's use around the world. By using simple ideas, we are making solar energy a more affordable and clean power source for future generations.