Vendor and financier agnostic, Mint Solar makes it easier to comparison shop for Residential and Commercial Solar Systems
Mint Solar, the premier provider of complete solar systems for Sams Club® nationwide, announces the grand opening of eight new Mint Solar vendor booths in Sams Clubs in Southern California cities. Members and shoppers now have access to solar experts representing numerous manufacturers and financing options, making it easier than ever to comparison shop for a Solar System.

Beginning February 15, Mint Solar rolls out new locations in Fullerton and San Diego. Throughout March the company opens Vendor booths in Fullerton, Fresno, La Habra, Chino, San Bernardino, South Gate and Palmdale Sams Club stores. In addition to Mint Solars expert guidance for each customer, members also leverage the immense buying power of Walmart® making it easier for consumers to be more eco-friendly and save money.
"People are looking for value and reliability, but they also really want a trusted partner in the selection process," states BJ Savage, Chief Sales Officer and Partner at Mint. "Sams Clubs motto is 'Savings made Simple.' This aligns perfectly with Mints values. Were solar made simple." Mint Solar staff are present throughout every stage of installation right through go-live, and each Sams Club team makes it a priority to stay up to date on changing regulations to ensure Sams Club members receive all applicable federal, state and local rebates and tax credits.
According to the California Environment Research and Policy Center, solar power has grown at a record-breaking pace over the years and the United States has 42 gigawatts (GW) of solar photovoltaic (PV) energy capacity, enough to power 8.3 million homes and reduce carbon dioxide emissions by 52.3 million metric tons annually. All across America, major cities like Los Angeles and San Diego, "Solar Stars," have played a key role in the renewable energy revolution -- as population centers, they experience high electricity demand and also have millions of rooftops suitable for solar panels.
Solar Stars are cities with the most solar PV installed per capita with 50 or more watts of installed solar PV capacity per person. "There is a lot of growth potential in Southern California," states Savage. "For example, while San Diego is one of Americas Solar Star cities, as of 2016 it had developed less than 14 percent of its technical potential for solar energy on small buildings."
To date, the participating Southern California Sams Club locations include Corona, Ontario, Murietta and Riverside. For more information about Mint Solar, visit http://www.mintsolar.com and join the Mint team at a Mint Solar Grand Opening.
About Mint Solar
Mint Solar, founded in 2014, finalized a partnership in 2016 to serve as Sams Clubs premier in-store Solar Solution provider. Sams Club is a division of Wal-Mart Stores, Inc. Vendor and financier agnostic, Mint Solar simplifies the comparison of a wide variety of solar solutions available today making it easy for members to find the best system for their individual needs. Mint Solar opened in their first vendor booth with Sams Club in February 2017 and will soon be available in all 400 Sams Club stores serving 47 million U.S. members Nationwide.
Featured Product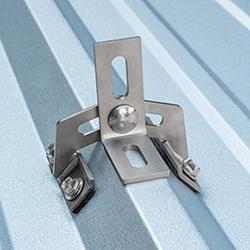 QuickBOLT Low Profile QuickBOLT with Microflashing™ is the industry's affordable, UL Certified Asphalt Shingle mounting system. The Microflashing™ is compressed by the collar on the bolt to create a water-tight seal. With an installation time of less than one minute, the Low Profile QuickBOLT allows installers to complete more jobs.