Combination of smart energy monitor and smart thermostat marks major step in smart home transformation
Smappee announced today that the Smappee app has joined the "Works with Nest" ecosystem, allowing homeowners to monitor and control heating and other energy consumption via one app. Coming on the heels of the launch of Smappee Plus earlier last year, the integration between Smappee and Nest represents a new step in the transformation of family homes into smart, energy-efficient dwellings.

The combination of Smappee's smart energy monitor with Works with Nest means that families can consult and control both the Smappee smart energy monitor and the Nest Learning ThermostatTM with a single app. "This integration has turned the Smappee app into a virtual command center that allows homeowners to control all their smart energy devices and more," said Stefan Grosjean, CEO of Smappee.
Smappee monitors home energy consumption and offers suggestions to families on where they can reduce hidden energy costs and track the complete flow of electricity from all kinds of devices, including solar panels, batteries and heat pumps. These insights can help save Smappee users up to 30% on their energy bills.
The Nest Learning Thermostat offers families more opportunities to operate their heating systems in a smart way. For example, the Nest thermostat automatically sets Eco Temperatures when no one is home. The thermostat keeps the home at the desired temperature instead of constantly switching on and off, and it takes the weather into account when setting the heating levels.
This integration also enables families to set certain limits for gas and water consumption that are personalized to household members habits. The Smappee app warns when consumption has exceeded the predetermined limits—a useful feature when the home is unoccupied. Smappee will also check that gas is not being used unnecessarily when high levels of carbon monoxide are detected from the Nest Protect detector. In other words, in addition to being a smart energy consumption monitor, the Smappee app protects families with a smart home safety net.
Smappee users already have all kinds of smart home possibilities thanks to the integration of Smappee into various Internet of Things (IoT) platforms. They can connect the devices in their home and control them using triggers.
Smappee continues to work on integrating with additional IoT platforms, smart devices and smart home applications. Since energy savings remain the key focus, this partnership with Nest was a logical step.
"Our houses are getting smarter and smarter," explained Grosjean. "Smart gas and water management is an important aspect of that. That is why we are so satisfied with our partnership with Nest: from now on, our users can tailor their gas and water consumption to their lives. And that means they save a lot of energy, which is great news for the environment and their wallets."
About Smappee
Smappee develops innovative solutions that foster sustainable energy consumption. Its smart monitors analyze the use of solar energy, gas, water and electricity—they were the first ones to track electricity consumption down to appliance level for all important devices. Users get insights via itemized bills and discover their energy consumption, energy guzzlers, standby power, etc. in real-time, at anytime and anywhere via the Smappee app. The Smappee Switch and partnerships with third-party IOT solutions empower consumers to turn their house into a smarter and better home. The professional version offers SMEs and multi-sites real-time data on one or multiple sites using the same easy installation and user-friendly app as the consumer version. Smappee envisions to change its users energy habits by making saving energy fun and to reduce their energy consumption without compromising on comfort. This ensures that both the user and the environment benefit from Smappees efficiency solutions. The company was founded in 2012 by Hans Delabie and Stefan Grosjean, advocate for renewable energy and energy efficiency, international expert in Smart Grids & Energy Management and founder of EnergyICT - now part of Honeywell-. Smappee has been award-winning ever since. Smappee is headquartered in Kortrijk, Belgium, and offers its solutions in 85 countries worldwide. For more information, visit www.smappee.com
Featured Product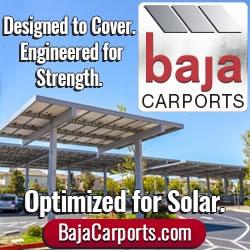 Baja Carports offers an extensive solar support system product line customized to customers' site specifications by in-house engineers, meeting their parking lot coverage, plus optimal PV production needs. Baja's Full Cantilever Tee is often paired with its Semi and Full Cantilever carports to meet live/loads up to 60psf and wind speeds to 160mph. All Baja products are pre-fabricated, bolted connections, pre-galvanized structural steel for fast on-site installation and project aesthetic requirements."