The largest pure play solar distributor acquires the largest solar franchise in the Americas.
Solar Engine LLC, a subsidiary of Soligent Holdings Inc., today announced the acquisition of the REPOWER America solar franchise and distribution network (known formerly as Solar Universe).

Soligent, the largest pure play solar distributor, financier and technology platform in the Americas supplies over 5,000 solar installers with best-in-class panels, inverters, racking and balance of systems across the U.S. and over 45 countries. REPOWER is the largest solar franchise business in the Americas supporting hundreds of nationwide installers having completed over 10,000 projects. Marathon Capital LLC provided advisory services and facilitated the transaction.
Soligent will now offer its equipment, logistics, engineering and finance solutions to the REPOWER America franchisees. Additionally, Soligent dealers will be able to join the REPOWER network and leverage a wealth of resources to help grow their businesses. This acquisition builds upon a history of solar acquisitions and mergers at Soligent, including the recent acquisition of EnergieBau, Sunwize, and Conergy's distribution networks.
Jonathan Doochin, CEO of Soligent Holdings stated, "Soligent is here to help assure that all solar energy installers feel supported, are successful, and have the possibility to make a positive impact. The acquisition of the REPOWER network further enhances the knowledge and value that Soligent can bring to our 5,000 strong installer community across the United States."
Mahesh Mansukhani, CEO of REPOWER Americas stated, "Since our inception ten years ago, we have focused solely on bringing innovative solutions and tools to our franchisee partners and homeowners across the country. In coming together with Soligent, we will now significantly expand our reach and also leverage their operational expertise, developed over 39 years serving a nation-wide installer base. Together, we will be bringing the very best solutions that the industry has to offer."
About Soligent:
Soligent is the largest pure play solar distributor, financier and technology platform in the Americas. Soligent supplies over 5,000 solar installers with best-in-class panels, inverters, racking and balance of systems across the U.S. and over 45 countries. Founded in 1979, Soligent has been a pioneer in the solar industry for decades and continues to drive the market forward with innovative solutions ranging from materials management to project financing. With advanced training, a diversified product offering, and multi-site distribution centers across the U.S., Soligent is well positioned as a responsive, flexible equipment partner. For more information, please visit http://www.Soligent.net.
About REPOWER America:
REPOWER AmericaTM, Inc. is the largest franchise network of local solar providers in the U.S., backed by the power of a national solar leader. As a national organization with over eighty megawatts of solar capacity installed, REPOWER America provides the scale, expertise and backing to help our network of nearly two hundred trusted, local solar contractors win in the highly competitive residential solar business. By banding together with REPOWER America, local partners gain access to the leading solar marketplace; a best-in-class portfolio of solar equipment and financing options at competitive prices and terms; and marketing, operational, technical and financial training, tools and support.
About Marathon Capital
Marathon Capital is a leading financial advisory and investment banking firm focused on providing financial advice in the areas of M&A, capital raising of debt and equity, project finance, tax equity, financial restructuring, recapitalization, bankruptcy and workout situations in the energy sector. Marathon Capital is a four-time recipient of the "Best Renewable Asset M&A Advisor" Award (2013, 2014, 2016, 2017), "Renewable Generating Project Finance Deal of the Year" Award (2016) and first-time recipient of the "Best Asset M&A Advisor (2017) in Power Finance & Risk's Annual Power Finance Deals and Firms Awards. http://www.marathon-cap.com
Featured Product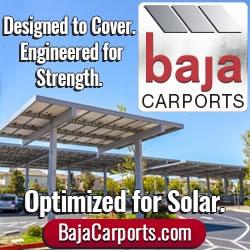 Baja Carports offers an extensive solar support system product line customized to customers' site specifications by in-house engineers, meeting their parking lot coverage, plus optimal PV production needs. Baja's Full Cantilever Tee is often paired with its Semi and Full Cantilever carports to meet live/loads up to 60psf and wind speeds to 160mph. All Baja products are pre-fabricated, bolted connections, pre-galvanized structural steel for fast on-site installation and project aesthetic requirements."