Geothermal Resources Council Annual Meeting will be held Oct. 14-17 in Reno, Nevada, USA.
Geothermal Resources Council (GRC) has issued a call for abstracts for the worlds biggest geothermal energy conference of the year taking place October 14-17, 2018, in Reno, Nevada, USA at the Peppermill Resort Spa Casino. The 42nd GRC Annual Meeting will showcase the world-wide availability of a clean, dependable renewable energy that is available 24 hours a day, 365 days a year, providing both flexible and baseload power production.

The GRC Annual Meeting is the industrys largest annual gathering of leading geothermal energy scientists, producers, renewable energy industry stakeholders, regulators, utilities, and key associated business leaders. The four-day event will offer technical, policy, and market conference sessions, educational seminars, tours of local geothermal and renewable energy projects, and numerous networking opportunities. Registration also includes entry to the Expo.
Nearly 1,000 attendees came to the 2017 GRC Annual Meeting and GEA GeoExpo+ from 35 different countries around the world, highlighting the GRCs role in connecting the global community. With increasing interest in geothermal as a reliable source of renewable energy providing both flexible and baseload power production around the world, the GRC is looking ahead to an even stronger international attendance in 2018.
The GRC 2018 Annual Meeting planning committee will consider abstracts for its Technical and Poster Sessions covering a range of topics, both domestic and international: Business Development; Country Updates; Direct Use/Heat Pumps; Drilling; Exploration and Resource Assessment; Field Operations; Geochemistry; Geology; Geophysics; Mineral Extraction; Modeling and Simulation; Operations and Maintenance; Regional Updates; Regulatory and Policy; Reservoir Engineering and Management; Sedimentary Basins; and Utility and Transmission.
In addition, a new feature this year is the opportunity to submit abstracts in special themed topics: Design and Implementation of New Technology (Session Chair: Will Osborn); Distributed Geothermal and Where Can It Be Implemented (Session Chair: Hezy Ram); Earth Modeling of Geothermal Systems (Session Chair: Robert Podgorney & Jeremy O'Brien); EGS COLLAB - A Path to FORGE (Session Chair: Tim Kneafsey & Doug Blankenship & Lauren Boyd); Environmental and Social Review for International Funding (Session Chair: Laurie Hietter); FORGE Research - enabling EGS (Session Chair: Lauren Boyd); Geothermal Energy in Canada: Existing Projects and Examining the Potential to Use Existing Oil and Gas Wells (Session Chair: Zach Harmer & Alison Thompson); Geothermal Production from Oil and Gas Fields (Session Chair: Kai Wang); Grid Effects from adding 4,000 GWh/yr of Wind, Solar, or Geothermal Generation (Session Chair: Kevin Kitz); How the Best Practice Management of Geothermal Resources (Session Chair: Paul Siratovich); Iceland Geothermal (Session Chair: Juliet Newson); Industrial Direct Use (Session Chair: Andy Blair); Innovations and Applications in Data Management Practices for Geothermal Development (Session Chair: Ashley Ndir); International Research on Engineered and Superhot Geothermal Systems (Session Chair: Egbert Jolie); Risk Mitigation Schemes in the World (Session Chair: Jean Jacques Graff & Christian Boissavy & Virginie Schmidle-Bloch); Sustainability and Community Engagement for Geothermal Development (Session Chair: Caity Smith & Aroha Campbell); and Deep Direct-Use Feasibility Studies (Session Chair: Arlene Anderson).
International participation is key to the success of the technical programs, and geothermal researchers and experts from around the world are encouraged to submit their work for consideration to be presented at the GRC Annual Meeting.
Anyone who wants to present at the GRC Annual Meeting must submit an abstract. The deadline for submission is Friday, March 30th, 2018.
Additional information about paper requirements and submission forms can be obtained by contacting the GRC at (530) 758-2360 or at www.geothermal.org.
For information on how to sponsor this event, contact Estela Smith; GRC at (530) 758-2360 or grc@geothermal.org.
For more information about the GRC Annual Meeting & Expo in Reno, Nevada, USA, visit www.geothermal.org/meet-new.html or call (530) 758-2360.
##
About the Geothermal Resources Council:
The Geothermal Resources Council (GRC) will be celebrating 50 years of service to the global geothermal energy community in 2020. The GRC is dedicated to advancing geothermal development around the world through education; research, and outreach. For more information, please visit www.geothermal.org.
Get your daily geothermal news at Global Geothermal News [geothermalresourcescouncil.blogspot.com]. Become a fan on Facebook [www.facebook.com/GeothermalResourcesCouncil]. Follow GRC on Twitter [@GRC2001 and #GRCAM2018]. Check out GRCs YouTube Channel [www.youtube.com/GeothermalCouncil]. See geothermal photos on GRCs Flicker page. [www.flickr.com/photos/geothermalresourcescouncil]
###
Featured Product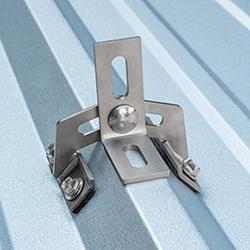 QuickBOLT Low Profile QuickBOLT with Microflashing™ is the industry's affordable, UL Certified Asphalt Shingle mounting system. The Microflashing™ is compressed by the collar on the bolt to create a water-tight seal. With an installation time of less than one minute, the Low Profile QuickBOLT allows installers to complete more jobs.