DTE Energy could create 5,642 additional jobs by building wind, solar, energy efficiency instead of natural gas plant
LANSING - A new analysis by BW Research Partnership released today found utility company DTE Energy could spark many more jobs by building and investing in a diverse mix of renewable energy and energy efficiency projects instead of building a new natural gas power plant in St. Clair County. DTE Energy is currently seeking approval from state regulators to build a one-billion dollar, 1,100 megawatt (MW) natural gas plant to replace old coal-fired power plants.

"Our analysis clearly demonstrates DTE Energy could significantly more Michiganders to work in the clean energy sector if it were to choose renewable energy and energy efficiency instead of natural gas," said Phil Jordan, principal, BW Research Partnership.
"DTE Energy is on the cusp of anchoring Michigans economy to another generation of fossil fueled power plants, just as solar and wind power have become cheap and effective enough to reliably and affordably power the grid," said Rebecca Stanfield, senior director with Vote Solar. "We urge the Public Service Commission to ask DTE Energy to do a better job considering the less expensive, cleaner alternatives to building a big, expensive natural gas plant."
The BW analysis was commissioned by Vote Solar and the Union of Concerned Scientists. BW Research found the solar, wind and efficiency portfolio would create 16,360 direct, indirect and induced jobs in Michigan. This number includes jobs designing, siting, engineering, installing and operating the new sources of generation, as well as those in the supply chain.
"The clean energy sector is among the fastest growing sectors in the Midwest, supporting 599,775 jobs including more than 92,000 in Michigan," said Liesl Clark, president of the Michigan Energy Innovation Business Council. "Our member businesses are ready to partner with the utility companies and their customers in Michigan to build energy projects that will lower costs and put even more people to work in good-paying jobs."
The analysis also found that in addition to massive job creation from solar, wind and energy efficiency investments, the alternative portfolio would generate significant tax revenue. In total, the proposed renewable production and efficiency savings would generate $213.5 million in local and state taxes and $41.1 million in federal taxes.
"As costs for solar and other renewable energy sources continue to decline, Michigan stands to greatly benefit from these clean, 21st century energy technologies," said Sean Gallagher, vice president of the Solar Energy Industries Association. "DTE Energy should replace old generation with renewable sources, like solar, to create more Michigan jobs and reduce costs."
"Despite big talk about sustainability, DTE is proposing to replace its coal plants with gas plants that will still be burning fossil fuels decades from now," said J.C. Kibbey, Midwest Outreach and Policy Advocate with the Union of Concerned Scientists. "We need to transition to a clean energy economy as quickly as possible, not just for our health and our future, but to take advantage of the jobs and economic opportunity clean energy can provide."
Featured Product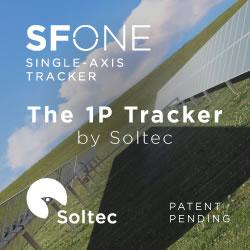 Soltec manufactures and supplies solar trackers designed and proven for extreme climate conditions, which is an ideal solution for any region's environment. Soltec's trackers are self-powered, requiring no additional PV module or grid-powered connection. Bifacial modules collect energy on both the front and rear sides, capturing reflected irradiance from the ground surface under and around the tracker and from other modules. Depending on site conditions, bifacial yield-gain can reach +30 percent.