A new solar experience offering homeowners increased transparency and control over design and price
BOSTON, March 8, 2018 /PRNewswire/ -- Sistine Solar, the maker of award-winning SolarSkinTM, is announcing today the launch of its SolarSkin Design StudioTM, an online platform that allows homeowners to customize the look and feel of their solar installation. Homeowners, for the first time ever, will be able to design solar panels that blend in with their existing roofs, whether those roofs are made of green architectural shingles, red Spanish tiles or any other material. Homeowners will also be able to see real-time pricing information as they customize their order and choose from a variety of recommended equipment options, monitoring solutions and warranty packages.

While switching to solar can be a savvy financial move — homeowners save 30 - 50% off their bill and increase the value of their home — the experience of going solar has traditionally been a frustrating one. First, homeowners have had few options; panels only come in either black or blue. Second, it usually takes multiple phone calls and in-person appointments just to get an estimate. That all changes today with the SolarSkin Design StudioTM, which introduces radical transparency. With just a zip code and an average monthly bill, homeowners located anywhere in the U.S. can design their system and compare the cost of going solar to their current energy bill. Sistine Solar hopes that, by offering a unique experience and custom aesthetic solutions, more homeowners will be encouraged to switch to solar.
"Consumers crave tailored solutions and value transparency during the buying process," said Ido Salama, Co-Founder and Head of Sales. "We're excited to launch our SolarSkin Design StudioTM to offer homeowners the tools to make better-informed decisions. Solar power is incredible and we really want folks to fall in love with solar. So, we re-designed the look of the product and the feel of the buying experience."
The SolarSkin Design StudioTM allows homeowners to design and order their system from a desktop computer or mobile phone. And, with a $99 refundable deposit, homeowners will receive a preliminary system design using LIDAR mapping, a detailed panel layout, guaranteed production figures, a realistic rendering, (where suitable image is available), and guaranteed delivery within 90 days. Just like personalizing a laptop or car purchase online, homeowners can now personalize their energy. As of today, homeowners can order everything they need to switch to solar power, produce clean electricity and save money. To visit the SolarSkin Design StudioTM, visit www.sistinesolar.shop.
About Sistine Solar
Sistine Solar brings a radically new design touch to the world of solar. Combining techniques from solar photovoltaics, color science, and cognitive sciences, the company has developed SolarSkin, a patent pending technology that can create solar panels with any aesthetic - any color, design or pattern. With SolarSkinTM, homeowners can enjoy high efficiency panels that blend in harmoniously with their rooftops. Sistine Solar's mission is to accelerate the adoption of solar through design. Born out of MIT, Sistine Solar is a recipient of the prestigious DOE SunShot award and is headquartered in Somerville, MA. To learn more about Sistine Solar, visit www.sistinesolar.com.
Featured Product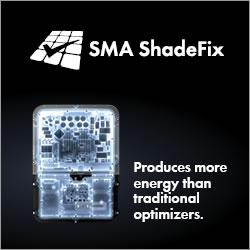 A recent university study showed SMA ShadeFix optimization produces more energy than traditional optimizers. It also utilizes far fewer components, reducing the need for costly service visits. Systems with ShadeFix optimization and SunSpec certified shutdown devices are the ideal solution for residential and commercial PV systems. Visit SMA's website to learn more and download the whitepaper.