HOMER Grid Helps Simplify Decisions about Distributed Energy Resource Investments and Maximize Return on Investment
HOMER Energy today announced its newest software product, HOMER Grid, a robust and powerful tool for optimizing the value of behind-the-meter, distributed generation systems while reducing demand charges. This important new product from HOMER Energy is a response to the rapidly growing solar-plus-storage market, and the rise in demand charges across the U.S. and other countries.

"Demand charges now make up about 25% of overall utility sales to commercial and industrial customers nationally, and for individual companies they can represent over 50% of an electricity bill," said Peter Lilienthal, HOMER Energy founder and Chief Executive Officer. "We continually hear from clients who say they don't understand how demand charges are calculated and what they can do to reduce them. That's why we designed HOMER Grid."
Built from the same code base as HOMER Pro, the global standard for designing distributed generation systems, and reusing many of its powerful optimization and visualization tools, HOMER Grid simplifies decisions about distributed energy resource investments. It helps engineers and business development teams understand the value of demand charge reduction, energy arbitrage, and self-consumption so they can determine the best mix of resources for the least-cost solution, and design a system with the best rate of return.
"Commercial electricity customers are facing complex and potentially confusing choices," Lilienthal added. "Solar-plus-storage and other distributed energy technologies can work together to have an impact on demand charges, and can dramatically increase the potential for commercial users to reduce their peak demand and save money. However, there are a lot of factors that go into designing the best system for your needs. It's a complex and nuanced process, and it's important to get it right. That's where HOMER Grid comes in."
While solar-plus-storage systems have the ability to reduce energy consumption and demand charges, other behind-the-meter technologies, such as combined heat and power, or on-site generators powered by natural gas, can be just as effective for certain systems. HOMER Grid is the first tool for this market that considers all of these technologies, providing users with the best potential mix of resources for the least-cost solution.
Incorporating the Genability utility tariff database, and also allowing customers to build their own tariffs, HOMER Grid will take inputs on customer load profile types and utility tariffs, and determine optimally sized hybrid renewable energy systems. Then it will run simulations for thousands of different types of system configurations for every hour of the year, and rank the results by financial performance. With options for solar PV, storage, generators, combined heat and power, and more, HOMER Grid allows users to tailor their design to the exact needs of a project. To learn more, visit http://www.homerenergy.com/trygrid.
About HOMER Energy
Founded in 2009 by Peter Lilienthal, Ph.D., and Marilyn Walker, Ph.D., Boulder, Colorado-based HOMER Energy is the developer and distributor of HOMER software, including HOMER Pro and HOMER Grid. With over 150,000 users in more than 190 countries, HOMER Pro is the global standard for microgrid decision analysis and feasibility studies. HOMER Energy provides software, training, and consulting services that identify how to build cost-effective and reliable microgrids that combine conventional and renewable power, storage, and load management. Its mission statement, "Clean Power Everywhere," embodies the company's goal to be the foremost provider of solutions for clean, affordable energy worldwide. Learn more at http://www.homerenergy.com.
Featured Product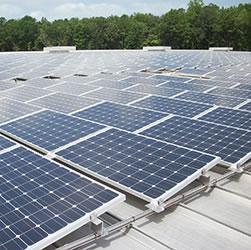 The Power Rail™ Commercial Mounting System is designed with the professional PV solar installer in mind. Both the XD/UD and LD/MD rails feature single tool assembly with the revolutionary patented RAD™ Lock-in-Place bolt for fast and secure module clamping. The high strength marine-grade aluminum rails include an integral wiring channel for securing cables and providing a professional finish.