Fast-growing home performance experts expand into Westchester and surrounding Counties, connecting homeowners with financing and technology to enhance energy efficiency.
WESTCHESTER, N.Y.--(BUSINESS WIRE)--HomeWorks Energy, one of the largest providers of home energy efficiency services in the Northeastern U.S., today announced its expansion into Westchester County, New York. HomeWorks Energy has grown to become one of the countrys most experienced home performance contractors, serving more than 30,000 homeowners a year. This announcement marks the first step in HomeWorks Energys planned national expansion and poises the company to take a larger leadership role in shaping energy efficiency programs and policy throughout the United States.

HomeWorks Energy conducts thorough home energy assessments and manages retrofits to improve in-home energy efficiency, including the installation of LED lighting, smart thermostats, upgraded insulation, window treatments and more. Through its network of highly vetted and trained contractors, utilities and government organizations, homeowners can quickly achieve their energy efficiency goals without the hassle of coordinating with multiple parties. Supported by its proprietary software and highly trained staff, HomeWorks Energy makes energy efficiency simple for homeowners by connecting them to available financing and government incentive options. HomeWorks also offers streamlined paperwork and logistics processing to remove traditional barriers to adoption.
"As a region full of historic single-family homes constructed before building codes prioritized energy efficiency, Westchester County is a natural choice for the expansion of our business," said Max Veggeberg, HomeWorks Energy CEO. "Westchester is also home to the highest property taxes of any county in the United States. The potential savings and reduced environmental impact we can bring to Westchester residents is huge. Additionally, HomeWorks Energy has created more than 300 jobs in Massachusetts over the past five years and expects to drive similar job growth in New York State. We look forward to serving this community."
HomeWorks Energy is the leading partner of Mass Save®, a collaborative of Massachusetts' natural gas and electric utilities and energy efficiency service providers that helps residents, businesses and communities save energy. The company will leverage similar local energy efficiency programs in Westchester County, such as the United States Department of Energys Home Performance with ENERGY STAR® program, which offers 10-15 percent off insulation and easy access to on-bill financing, and the New York State Energy Research and Development Authoritys EmPower New York program, which provides eligible low-income households access to energy efficiency upgrades at no cost.
In January alone, HomeWorks Energys upgrades prevented more than 50,000 metric tons of carbon dioxide from being released into the environment. The companys efforts will support New York States ambitious energy initiatives, including a 40-percent reduction in greenhouse gas emission from 1990 levels, and a 600-trillion Btu increase in statewide energy efficiency.
HomeWorks Energy is currently recruiting additional partners in New York State to support its energy efficiency efforts.
About HomeWorks Energy
HomeWorks Energy is a full-service home performance contractor empowering homeowners to save money on utility bills while making homes safer, more comfortable and better for the environment. HomeWorks Energy offers a 'whole-home approach with everything from thorough home energy assessments to connecting homeowners with financing and government incentives to the installations themselves. HomeWorks Energy is the largest home performance contractor in Massachusetts, serving over 30,000 homeowners a year and partners with highly vetted and trained contractors, installers, utilities, local energy efficiency service providers, government organizations and non-profits.
To learn more about our services or join our top-notch partnership network, please visit http://www.homeworksenergy.com/.
Contacts
Antenna Group for HomeWorks Energy
Kalena Gravina, 201-465-8013
homeworks@antennagroup.com
Featured Product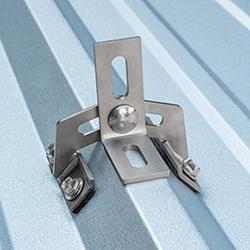 QuickBOLT Low Profile QuickBOLT with Microflashing™ is the industry's affordable, UL Certified Asphalt Shingle mounting system. The Microflashing™ is compressed by the collar on the bolt to create a water-tight seal. With an installation time of less than one minute, the Low Profile QuickBOLT allows installers to complete more jobs.