Long a Leader in Storage, SMA Has Sold 100,000 Battery-Based inverters
ROCKLIN, Calif., April 3, 2018—As energy storage continues to grow in the U.S., SMA is pleased to sponsor and exhibit at the Energy Storage Association's (ESA) 28th Annual Conference and Expo, which will take place April 18-20, 2018, in Boston, Mass. ESA is the premier storage-affiliated trade association in the U.S., and its conference is an ideal opportunity for networking, education and collaboration among solar and storage professionals.

"SMA has been a leader and an authority on storage since the company's inception," said Volker Wachenfeld, executive vice president of SMA's Off-grid and Storage business unit. "With 100,000 battery-based inverters sold globally, we have long recognized that battery storage is the key in transforming to a fully decentralized energy supply based on renewable energy. We are pleased to see the market expanding in the U.S. and look forward to participating in this year's ESA event."
At the conference, SMA will highlight the company's utility-scale storage solutions and the benefits they provide—including greater control on the grid and better integration of renewables—with SMA experts on hand to answer questions and provide information. Those in attendance can expect to learn more about SMA's Sunny Central Storage solution, which offers a full power class lineup for 1,000 and 1,500 V applications. SMA will also soon offer the Sunny Boy Storage inverter, an intelligent energy management solution for residential installations.
About SMA
The SMA Group with sales of around €900 million in 2017 is the global market leader for solar inverters, a key component of all PV plants. SMA offers a wide range of products and solutions that allow for high energy yields for residential and commercial PV systems and large-scale PV power plants. To increase PV self-consumption efficiently, SMA system technology can easily be combined with different battery technologies. Intelligent energy management solutions, comprehensive services and operational management of PV power plants round off SMA's range. The company is headquartered in Niestetal, near Kassel, Germany, is represented in 20 countries and has more than 3,000 employees worldwide, including 500 working in Development. SMA's multi-award-winning technology is protected by approximately 1,000 patents and utility models. Since 2008, the Group's parent company, SMA Solar Technology AG, has been listed on the Prime Standard of the Frankfurt Stock Exchange (S92) and is currently the only company in the solar industry that is listed in the TecDAX index. www.SMA-America.com
Featured Product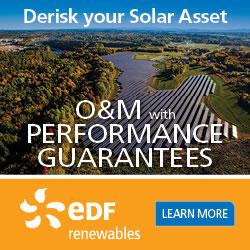 EDF Renewables offers the same innovative solutions that maximize the performance of our own 5.2 GW of installed projects. Because we're not an equipment manufacturer, our recommendations are transparent and data-driven. We cover the entire project lifecycle: from pre-commissioning support, through warranty and post warranty operation, to late stage and decommissioning.