Technology Breakthrough Enables Unlimited Driving Range
MALVERN, Pa., April 18, 2018 /PRNewswire/ -- Momentum Dynamics Corporation, the global leader in fast, efficient high-power wireless charging for electric vehicles, has commissioned the nation's first 200-kilowatt wireless charging system for a battery-electric transit bus fleet. The first of its kind wireless charging system is now operational on a BYD K9S bus at Link Transit in Wenatchee, Washington, representing the future of electric mass transit.

"Across the globe, transit agencies are transitioning to electric buses as quickly as they can but driving range limitations are impeding faster adoption," said Momentum's CEO Andrew Daga. "These agencies have been waiting for a solution that will guarantee their new electric buses can drive any route while maintaining an adequate energy reserve under all conditions."
For electric transit, wireless charging is the most effective method for on-route opportunity charging. Within five minutes, the wireless charging system automatically adds enough energy to the vehicle's battery to complete another route during its routine transfer station stop. This allows the electric bus to drive unlimited route cycles. Buses with Momentum's wireless charging system stop over the charging transmitter embedded in the road to charge automatically.
"This state-of-the-art technology is a game changer for battery electric fleets across the nation," said Todd Daniel, Technology Manager for Link Transit. "The simplicity along with seamless charging allows Link Transit to operate all of our urban service routes continuously without the need for midday charging. Link is planning to expand this technology for our longer rural routes in the near future, which will assist in the agency's goal of 100% fleet electrification."
Electric buses can now outperform diesel-fueled and hybrid buses in terms of driving range, cost of operation, emissions, and passenger comfort. Achieving 200-kilowatt automatic charging is a critical milestone to growing the world's fleet of battery electric municipal buses. On average, electric buses reduce fuel and maintenance costs by one dollar per mile compared to current diesel and hybrid buses. Over the operating life of a bus fleet, this amounts to millions of dollars in savings per year.
Momentum's wireless charger installed at Link Transit is the first in North America to operate at the 200-kilowatt power level and the first to achieve a UL field certification. In its first month of operation, the system is adding more energy to the bus than it consumes on each driving route. The system is more energy efficient than plug-in chargers of the same power rating. Momentum is installing additional wireless charging systems in the U.S. this year and more are planned for Europe in 2019. This breakthrough technology was designed and manufactured by Momentum in the U.S. and can be used in electric cars, commercial and autonomous vehicles.
Featured Product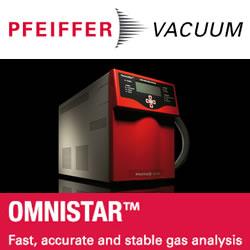 The Pfeiffer Vacuum OmniStar benchtop analysis system offers you a compact footprint, powerful software and Ethernet connectivity. It's the optimum solution for many real-time gas analysis applications. With the OmniStar, Pfeiffer Vacuum offers you a complete solution for gas analysis, in chemical processes, semiconductor industry, metallurgy, fermentation, catalysis, laser technology and environmental analysis. The turnkey OmniStar gas analysis system consists of heated, temperature-regulated gas inlet system, Quadrupole mass spectrometer, a dry diaphragm vacuum pump and HiPace turbopump. Unlike competing methods such as FTIR, OmniStar is suitable for qualitative and quantitative analysis of most gases.