Leaders unveil strategy to lift record-setting wind power capacity and jobs to new heights as AWEA elects new Board members
CHICAGO - WINDPOWER, the Western Hemispheres largest wind and renewable energy conference, kicked off today in Chicago with American Wind Energy Association (AWEA) leadership including Steve Lockard, AWEAs newly elected Board Chair and President and CEO of TPI Composites, providing their vision and direction for American wind power to the more than 7,500 attendees.

"Were gathering in Chicago to celebrate the success of the wind industry and chart a course for the next phase of wind energy growth," said Steve Lockard, President and CEO of TPI Composites and newly elected AWEA Board Chair. "Wind has cut costs at a pace similar to the semiconductor industry. Now utilities, corporate customers and investors are all prioritizing affordable wind energy because it makes business sense and helps to decarbonize our electric sector. Make no mistake: wind is winning, and will keep winning if our industry stays focused on priorities that attain, elevate and grow demand."
The business leaders, investors, policy experts, engineers, technicians, students and others who gather at WINDPOWER each year are leading the transformation of Americas electricity supply to be more affordable, reliable and clean. U.S. wind power has added nearly 30,000 megawatts (MW) of capacity since 2013, the last time WINDPOWER took place in Chicago, and with 89,379 MW installed today wind is now the largest source of U.S. renewable electricity generating capacity. In fact, wind power now reliably supplies 6.3 percent of all U.S. electricity and more than 30 percent of the electricity in Iowa, Kansas, Oklahoma and South Dakota. The industry employs a record 105,500 Americans working in wind farms or factories in all 50 states.
The U.S. wind industry is poised for continued strong growth in the near term. The full pipeline of wind farms under construction or in advanced development now totals 33,449 MW, a 40 percent increase compared to the first quarter of 2017. The scale of this economic engine is clear when walking WINDPOWERs exhibition floor, where 426 exhibitor booths, including more than 100 first-time exhibitors, demonstrate the many technologies and services that make up the modern wind power industry. During General Session remarks, industry leaders emphasized that there is work still to be done to build upon this success story.
"The stability created by an orderly five-year phase out of the Production Tax Credit was a home run for our industry, American manufacturing, and job growth," said Tom Kiernan, CEO of the American Wind Energy Association. "Wind is now an essential part of the modern American electricity supply. While home runs are never a bad thing, the wind industry is going to be successful going forward through a sustained a rally of singles and doubles. That means continued cost reductions and technological advances paired with improvements to market design, infrastructure, and state policy to fully unlock the value of wind energy."
Wind powers rise as a mainstream industry is underscored by the presence of major energy and finance companies on the Board of the American Wind Energy Association. On Monday, AWEAs Board elected a new Chair, Steve Lockard, President and CEO of TPI Composites, an American wind turbine blade manufacturer. AWEAs outgoing Board Chair, Tristan Grimbert, President and CEO of EDF Renewables, now moves to his Past-Chair position as an officer of AWEA.
"In the year since I became Chair of AWEAs Board, we have seen tremendous progress growing the American wind development pipeline 40 percent and working with Congress to achieve tax reform that will continue wind power investment and job growth," said Tristan Grimbert, President and CEO of EDF Renewables and outgoing AWEA Board Chair. "Im proud to pass the reins of AWEAs Board to someone as passionate and knowledgeable about the industry as Steve. Under his leadership, Im confident AWEA and the industry can balance immediate opportunities with long-term strategy needed to sustain growth."
Other changes to the AWEA Board include the election of Rob Caldwell, President of Duke Energy Renewables and Distributed Energy Technology, as Chair-elect, Mike Garland, President and CEO of Pattern Energy, as Secretary, and Ray Wood, Managing Director, Head of Global Power and Renewables, Bank of America Merrill Lynch, as Treasurer. Three new Directors were also elected to the Board including Laura Folse, CEO, BP Wind Energy; David Giordano, Managing Director, Renewable Power Group, Blackrock; and Tim Maag, Vice President and General Manager, Wind, Mortenson. Four additional industry leaders were confirmed as new interim Directors at WINDPOWER, including Mit Buchanan of J.P. Morgan, Craig Cornelius of NRG Renewables, Jim Murphy of Invenergy, and José Antonio Miranda Soto of Siemens Gamesa Renewable Energy. A full listing of AWEAs Board of Directors is available online.
As WINDPOWER continues this week, a strong line-up of wind and renewable energy leaders can be heard during General Session remarks at 10:00am CT on Wednesday:
• Adam Wright, President and CEO, MidAmerican Energy Company;
• Chris Brown, President, Vestas Americas;
• John Lavelle, President and CEO, GE Renewable Energy;
• Kelly Speakes-Backman, CEO, Energy Storage Association;
• Danielle Merfeld, Vice President and Chief Technology Officer, GE Renewable Energy;
• Evan Caron, Cofounder and Managing Director, Swytch;
• Brian Janous, Director of Energy Strategy, Microsoft;
And during a Town Hall discussion on Thursday at 11:00am CT, Steve Lockard, Tristan Grimbert and Tom Kiernan will be joined by a speaker selected by conference attendees to reflect on the future of American wind power and take audience questions.
A livestream of all General Session remarks and a full WINDPOWER schedule are available.
###
AWEA is the national trade association of the U.S. wind energy industry. We represent 1,000 member companies and over 100,000 jobs in the U.S. economy, serving as a powerful voice for how wind works for America. Members include global leaders in wind power and energy development, turbine manufacturing, and component and service suppliers. They gather each year at the Western Hemispheres largest wind power trade show, the AWEA WINDPOWER Conference & Exhibition, happening this week in Chicago, May 7-10, 2018. Find information about wind energy on the AWEA website. Gain insight into industry issues on AWEA's blog, Into the Wind. And please join us on Facebook, and follow @AWEA on Twitter.
Featured Product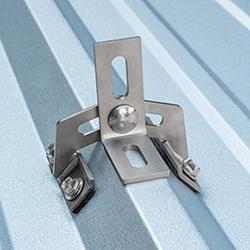 Explore new lines of income for your solar installation business with QuickBOLT's Stone Coated Steel roof mounts designed in partnership with metal roof manufacturers themselves. These SCS roof mounts work on all metal tile profiles and will help you bring in money you're missing out on. By not driving into the roofing material, QuickBOLT's Stone Coated Steel roof hooks maintain the integrity of the roof. Install with ease and confidence knowing your roof is protected against the harsh elements that these hooks are designed for.