Developers Selected to Build Americas Two Largest Offshore Wind Projects
Boston, MA (May 23, 2018) - Massachusetts, in partnership with Rhode Island, took a giant step forward in pursuit of offshore wind power today. Two offshore wind energy projects have been selected by the regions utilities to provide power to Massachusetts (Vineyard Wind - 800 megawatts) and Rhode Island (Deepwater Wind - 400 megawatts), jumpstarting the nations offshore wind industry.

Todays announcement marks the first round of development to fulfill Massachusetts 1,600 megawatt offshore wind commitment signed into law in 2016. It puts the Commonwealth on track to replace retiring nuclear and coal-fired power plants with the clean, local, inexhaustible power available and abundant far offshore. Such leadership secures New Englands role as a driving force in launching Americas offshore wind industry following nearly thirty years of development in Europe.
"It is a historic day for offshore wind power in New England, thanks to project commitments by Massachusetts and Rhode Island that will collectively power a half million homes. The National Wildlife Federation applauds the leadership of these states for ensuring that New England becomes a hub for this transformational new clean energy industry," said Collin OMara, president and CEO of the National Wildlife Federation. "Responsibly developed offshore wind power offers an unparalleled opportunity to bring thousands of jobs and reliable, affordable power to the region while advancing a critically needed climate solution. Looking forward, we will continue working with all project developers to ensure these projects are built with the highest standards of wildlife protection in place every step of the way."
"Annually, Massachusetts sends $18 billion dollars out of state to import fossil fuels. It is a senseless loss of wealth. Today marks a clear shift for our economy and state identity. Instead of always being at the end of someone elses dirty pipeline, we are at the beginning of our own clean one," said Elizabeth Henry, President of ELM. "The economic and environmental benefits from this industry can be immense."
To meet the Commonwealths Global Warming Solutions Act requirements, and maximize local job creation opportunities, Massachusetts cannot rest after this announcement. Committing to the largest offshore wind project in our nations history sends an important signal that the Commonwealth is serious about becoming a hub for this critical new clean energy industry, and we need to keep moving forward. In the last year alone, New Jersey has committed to 3,500 MW of offshore wind by 2030, with an 1,100 MW request for proposals expected this year, and New York has committed to 2,400 MW of offshore wind by 2030, with a 90 MW project already contracted and a stated intention of procuring 800 MW by next year. The race is on to land the transformational economic and environmental benefits that responsibly developed offshore wind power can deliver.
Learn more about the National Wildlife Federations work to advocate for the responsible development of offshore wind power at offshorewind.NWF.org and visit the NWF Media Center at NWF.org/News.
Learn more about the Environmental League of Massachusetts and our priority issues.
***
The National Wildlife Federation is America's largest conservation organization, uniting all Americans to ensure wildlife thrive in a rapidly changing world. Follow us on Facebook, Twitter, and Instagram.
The Environmental League of Massachusetts is committed to combating climate change and protecting our land, water, and public health. By creating diverse alliances and building the power of the environmental community, we use our collective influence to ensure Massachusetts is a leader in environmental and economic sustainability.
Featured Product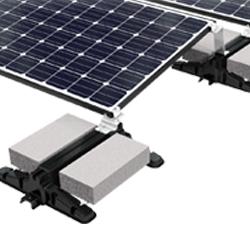 Preformed Line Products introduces the POWER MAX Ballasted Roof Mounting System. The POWER MAX solar mounting system is engineered to maximize energy output on commercial flat roofs. Developed with the professional installer in mind, this system offers adjustable inter-row spacing in the field of up to 11 inches. It features 50% fewer components and a simplified design resulting in faster assembly rates and labor savings on every project. Available in a flush mount, 5˚ or 10˚ tilt or higher density dual tilt design, the POWER MAX base arrives stacked on pallets providing easier transport to the roof. Engineered as a fully ballasted, non-penetrating system, it accepts standard concrete blocks and is qualified by wind tunnel testing.