Collaboration provides best-in-class sustainable technology solutions for the growing number of American households seeking high performance products that support a future for clean energy
sonnen, the global market leader in intelligent residential energy storage, today announced a program with SunPower, one of the world's most innovative and sustainable energy companies. The program sets a new standard in clean energy by offering the highest quality pairing of SunPower® Equinox™ home solar energy systems + sonnen's intelligent energy storage now available to residential customers across the U.S. through SunPower's participating installation contractors.

Both companies focus on quality, performance, innovation and customer satisfaction as the keys to enhancing the rapid adoption of clean energy technology. sonnen identified SunPower as one of the best-performing solar "full system" providers on the market with products like Equinox, a highly-efficient, all-in-one solar system that generates up to 60 percent more energy than conventional solar in the same space over a 25-year period.
With over 30,000 energy storage systems installed, sonnen's systems are smart, safe, the battery technology is warrantied to last significantly longer than most other energy storage systems, thus serving as the foundation for the company's energy management innovations. By combining sonnen + SunPower Equinox solar energy systems, homeowners are able to store energy, manage electricity usage and gain peace of mind with the ability to power their homes and even their communities with clean energy, even during power outages.
"SunPower is the solar industry's gold standard for superior solar products and services which fits perfectly with sonnen's leadership in developing intelligent and high performing residential energy storage systems," said Blake Richetta, Senior Vice President and head of sonnen's U.S. division. "This new program is an ideal marriage between two innovative companies who possess a similar vision to provide premium technology that leads us to a clean and reliable energy future. We are eager to integrate our products and systems with Equinox and offer a premier and comprehensive solution for the growing solar + storage marketplace."
"sonnen's high quality, intelligent residential storage solution is an industry leading product that passed SunPower's rigorous testing for compatibility with Equinox," said Norm Taffe, SunPower executive vice president, residential solar. "By enabling our dealer network to pair sonnen's reliable battery storage with SunPower's leading Equinox system, we are confident in our ability to meet growing consumer demand for solar-plus-storage and further adoption of sustainable technologies by homeowners across the country."
The program with SunPower marks yet another milestone achievement for sonnen, already recognized as the global leader in smart home energy management with over 30,000 systems installed. Recently, sonnen and Shell Ventures disclosed a $71 million USD strategic investment designed to meet the vision and goals of both companies to accelerate the global expansion and delivery of cleaner energy solutions. The relationship with SunPower follows this trend of sonnen identifying companies of the highest caliber to collaborate with in the advancement of renewable energy technologies and capabilities for broad-scale consumer adoption.
In order to accelerate the adoption of innovative solar + storage products in the U.S. market, sonnen relies on premier solar companies, such as SunPower, who provide customers with access to premium products, a highly-qualified dealer network, and a world-class customer experience. sonnen's all-in-one design not only seamlessly integrates into modern and tech-savvy homes, but also provides life-saving power to areas of critical need, such as hurricane ravaged Puerto Rico. sonnen is revolutionizing the way new homes are built across the U.S. by providing Virtual Power Plant (VPP) software that uniquely enables solar-powered neighborhoods to join together and pool clean energy resources, forming the sonnenCommunity.
About sonnen
At sonnen, we believe clean, affordable, and reliable energy for all is one of the greatest challenges of our time. sonnen is a proven global leader in intelligent energy management solutions that provide greater energy control for residential customers through increased solar self-consumption, reduced peak energy usage and reliable backup power during outages - contributing to a cleaner and more reliable energy future. sonnen has won several awards for its energy innovations, including the 2017 Zayed Future Energy Prize, MIT's Technology Review's 50 Smartest Companies in 2016, Global Cleantech 100 for 2015-2017, Greentech Media's 2016 Grid Edge Award for innovation, and Cleantech's 2015 Company of the Year Award in both Israel and Europe. www.sonnen-batterie.com
About SunPower
As one of the world's most innovative and sustainable energy companies, SunPower (NASDAQ: SPWR) provides a diverse group of customers with complete solar solutions and services. Residential customers, businesses, governments, schools and utilities around the globe rely on SunPower's more than 30 years of proven experience. From the first flip of the switch, SunPower delivers maximum value and superb performance throughout the long life of every solar system. Headquartered in Silicon Valley, SunPower has dedicated, customer-focused employees in Africa, Asia, Australia, Europe, and North and South America. For more information about how SunPower is changing the way our world is powered, visit www.sunpower.com.
Featured Product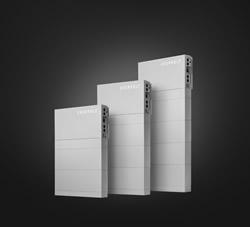 Extract maximum power production from every roof size and shape. HIT® AC Series combines the module efficiency of Panasonic solar panels with the intelligence of Enphase microinverters. A built-in IQ 7X microinverter with Individual MPPT (Module-level Power Point Tracker) tracking helps deliver an all-in-one module that offers design flexibility, reduced installation time, and a higher ROI. Field-replaceable microinverter with no DC wire management required yields lower cost of ownership.