Company ready to share innovations made in recent months with conference attendees.
Solar FlexRack™, a division of Northern States Metals and an innovative leader in photovoltaic mounting and solar tracker solutions, will exhibit at Intersolar North America (NA) being held at the Moscone Center in San Francisco, California from July 10th to the 12th. The conference is North Americas most attended solar event and is co-located with EES North America, the leading conference for the electrical energy storage industry. Intersolars global mission is uniting people and companies around the world with the aim of increasing the share of solar power in our energy supply.

Solar FlexRack will join over 450 exhibitors and 16,000 attendees at Intersolar NA, the premier networking platform for the North American solar industry. This years opening ceremony will include the 2018 Intersolar Champion of Change Lifetime Achievement being awarded to California State Governor, Edmund G. Brown Jr. The events exhibitions will focus on photovoltaics, PV production technologies, energy storage and solar thermal technologies. Since Intersolar was established in 2008, it has become the most important industry platform for manufacturers, suppliers, distributors, service providers and partners of the global solar industry.
Steve Daniel, Executive Vice President of Solar FlexRack said, "We are ready to share the innovations we made in recent months with conference attendees. Weve expanded our product lines to include solar tracker and fixed tilt solutions for First Solar Series 4 and 6, fixed tilt solutions for Solar Frontier, a solar ground screw foundation solution, along with a Self Powered Solar Tracker solution. Through these advancements, Solar FlexRack continues to give developers and EPCs the flexibility they need to deliver higher quality and performance in large-scale solar plants."
Solar FlexRack is an industry-leading company delivering best-in-class engineered racking and solar tracker solutions that safeguard solar projects. Representatives from Solar FlexRack will be available to discuss their innovative approach and their customers successes with individuals interested in learning more. Please schedule a meeting in advance to meet with the Solar FlexRack team onsite or visit Solar FlexRacks booth #9619, on Level 3, to see the companys latest products.
About Solar FlexRack
Solar FlexRack, a division of Northern States Metals, is an integrated solar company that offers custom-designed, fixed tilt ground mount and single-axis solar tracker systems in the commercial and utility scale solar mounting industry. Solar FlexRack also offers full turnkey packages, including engineering, geotechnical, pullout testing, field, layout, and installation services, to address the actual site conditions of an installation, providing a full scope of services from design to delivery and installation. Solar FlexRack has completed 1.8 GW of solar racking installations in 40 states across America and five countries globally. For more information, go to www.solarflexrack.com and follow us on Twitter, Facebook and LinkedIn.
Featured Product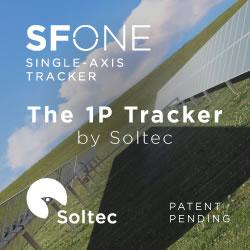 Soltec manufactures and supplies solar trackers designed and proven for extreme climate conditions, which is an ideal solution for any region's environment. Soltec's trackers are self-powered, requiring no additional PV module or grid-powered connection. Bifacial modules collect energy on both the front and rear sides, capturing reflected irradiance from the ground surface under and around the tracker and from other modules. Depending on site conditions, bifacial yield-gain can reach +30 percent.