Visit Booth # 1258 to discuss benefits of optimizing ventilation
NEWTON, Mass., USA - Aircuity, (www.aircuity.com), creator of measurably better environments, will be highlighting the benefits of its platform for optimizing ventilation at universities during the National Association of College and University Business Officers' NACUBO 2018 Annual Meeting. The meeting, which brings together chief academic officers (CAOs) and chief business officers (CBOs), will be held July 21-24 2018, at the Long Beach Convention Center in California.

Dan Diehl, CEO and Peter M. Hmelyar, Vice President of Sales at Aircuity, will be on hand in Booth #1258 to discuss the enormous benefits of optimizing ventilation with Aircuity's platform. HVAC represents 30 percent of total energy use in commercial buildings, and is the next frontier of efficiency and productivity gains.
Customers using Aircuity achieve high priority outcomes beyond deep energy savings, including increased occupant safety, productivity, and even improved cognitive function. Benefits for higher education institutions include energy savings, a healthier environment for all occupants, a reduced deferred maintenance backlog, and a reduced spend for operations and maintenance. Other benefits delivered include data analysis for continuous commissioning and helping university buildings support the institution's core mission. With a validated return on investment of between 2 and 5 years.
Aircuity's system is implemented in more than 210 higher education institutions, including University of Pennsylvania, University of California Irvine, Northwestern University, Michigan State University, and University of Houston.
ABOUT AIRCUITY
Aircuity creates smart airside solutions through its intelligent building platform, significantly reducing energy costs and improving the indoor environmental quality for occupants. As the demand control solution, Aircuity optimizes ventilation rates through its patented technology. As a result, commercial, institutional and lab building owners can lower operating costs, protect occupants and verifiably reduce energy use by as much as 60 percent. Founded in 2000 and headquartered in Newton, MA, Aircuity's solutions have benefited over 400 organizations such as Google, Amazon, Eli Lilly, Masdar City, the University of Pennsylvania, and the University of California-Irvine. For additional information on the company and its solutions, please visit: www.aircuity.com.
Featured Product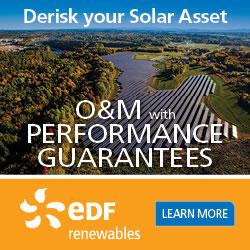 EDF Renewables offers the same innovative solutions that maximize the performance of our own 5.2 GW of installed projects. Because we're not an equipment manufacturer, our recommendations are transparent and data-driven. We cover the entire project lifecycle: from pre-commissioning support, through warranty and post warranty operation, to late stage and decommissioning.