Attendees can see real-time, peer-to-peer energy exchange between two DERs connected on a DC-Link
EnSync, Inc. (NYSE American: ESNC), dba EnSync Energy Systems, a leading developer of innovative distributed energy resources (DERs), business models and controls for residential, commercial and utility installations, announced today that the company will feature its Home Energy System (EnSync Home) at the upcoming Solar Power International (SPI) conference.

The installation, which will connect to SPI's live microgrid at the Smart Energy Microgrid Marketplace, will feature two EnSync Home systems exchanging electricity in real time, via EnSync Energy's True Peer-to-PeerTM DC-LinkTM technology. This pioneering feature allows networked residential units to share, buy or sell electricity with one another, optimizing the economic benefits of the photovoltaic (PV) installation across the network of residences.
In this network, when a residential unit generates energy in excess of its load, it will charge the unit's energy storage battery. Once the battery reaches full capacity, any additional energy generated then enters the DC-Link, a platform that interconnects individual residential units behind their utility meters and channels this electricity to other units in the network that demand more energy than they are generating or storing. The export and import from each unit is then metered and reported to the utility, though the True Peer-to-Peer network can also be deployed as a non-export system.
"We look forward to showcasing our Home Energy System and its unique peer-to-peer technology at Solar Power International," said Brad Hansen, president and CEO of EnSync Energy. "There are millions of individually metered multi-family property units across the United States that will never be economically viable for PV or PV-plus-storage when addressed separately. This breakthrough energy exchange capability aggregates and optimizes any inefficiencies due to vacancy rates, low load units, shading impacts and other problems at the property level, thereby drastically improving economics for the entire site. Attendees at the show will see the exchange of energy between end users in real time and learn how this pioneering technology addresses critical challenges for the multi-family property segment of the commercial-residential market."
Beyond exhibiting, EnSync Energy executives were also selected to lend their industry expertise as speakers at educational sessions about microgrid use cases for multi-residential units and the cable industry.
Solar Power International will take place on September 24-27, 2018, in Anaheim, CA. The Smart Energy Microgrid Marketplace will be located in the Smart Energy section in Hall D. Conference attendees can visit EnSync Energy at booth #4153.
About EnSync Energy Systems
EnSync, Inc. (NYSE American: ESNC), dba EnSync Energy Systems, is creating the future of electricity with innovative distributed energy resource (DER) systems and internet of energy (IOE) control platforms. EnSync Energy ensures the most cost-effective and resilient electricity, delivered from an electrical infrastructure that prioritizes the use of all available resources, such as renewables, energy storage and the utility grid. As project developer, EnSync Energy's distinctive engagement methodology encompasses load analysis, system design consulting, and technical and financial modeling to ensure energy systems are sized and optimized to meet our customers' objectives for value and performance. Proprietary direct current (DC) power control hardware, energy management software, and extensive experience with numerous energy storage technologies uniquely positions EnSync Energy to deliver fully integrated systems that provide for efficient design, procurement, commissioning, and ongoing operation. EnSync Energy's IOE control platform adapts easily to ever-changing generation and load variables, as well as changes in utility prices and programs, ensuring the means to make or save money behind-the-meter, while concurrently providing utilities the opportunity to use DERs for an array of grid enhancing services. In addition to direct system sales, EnSync Energy includes power purchase agreements (PPAs) in its portfolio of offerings, which enables electricity savings for customers and provides a stable financial yield for investors. EnSync Energy is a global corporation, with joint venture Meineng Energy in AnHui, China, and energy project development subsidiary Holu Energy LLC in Hawaii. For more information, visit www.ensync.com.
Featured Product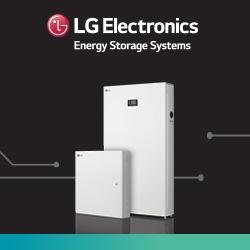 Meet LG Electronics Home 8 Energy Storage System (ESS), a whole home battery backup solution built with installers and their homeowner customers in mind. The ready-to-deploy Home 8 features just one SKU and a modular assembly for fast installation. It can be AC-coupled or solar-powered and is engineered with a grid-connected inverter, four battery modules, and a Smart Energy Box featuring a 7'' LCD touchscreen with commissioning wizard for easy setup. Each Home 8 unit can store up to 14.4 kWh of usable power, helping homeowners gain pure independence from the grid. Plus, installers can connect up to four units, bringing customers up to 57.6 kWh of total backup power-all easily managed and monitored through intuitive mobile apps.