Community solar leader building 8.2 MWdc of solar projects in Minnesota
ST. MICHAEL, Minn. - September 13, 2018 - SunShare, the nations pioneer in community solar, has secured $11 million in construction/term project financing from ANB Bank for the construction of 8.2 MWdc of community solar gardens in Minnesota. Construction has begun on the SaintSun (6.9 MWdc) and ZumbroSun (1.3 MWdc) projects in Saint Michael and Zumbro Falls, MN, and they are expected to reach mechanical completion starting in October 2018.

"Weve been building community solar gardens for almost a decade to make solar energy accessible and affordable to everyone. Securing construction financing through our own balance sheet is a critical proof point that speaks to the bankability of SunShare and its residential-focused community solar model," said David Amster-Olszewski, SunShares founder and CEO. "With the support of partners like ANB Bank, well be able to continue to execute on our pipeline of community solar projects and expand the power of clean energy choice to even more communities across the country."
Both the SaintSun and ZumbroSun community solar projects are being built by Conti Solar, a full turnkey EPC services contractor with a strong reputation as a highly experienced and reliable EPC partner. These two projects will consist of six total community solar gardens, which will serve approximately 1,200 households in Carver, Wabasha, and adjacent counties, as well as Saint Marys University. Subscribers will begin receiving the benefits of clean solar power as well as credits on their Xcel Energy utility bills for energy generated by the gardens once the interconnection process is completed in late 2018 or early 2019.
"SunShares substantial track record in community solar and its dedication to quality in the development and construction of their community solar gardens is a benefit to subscribers. We are proud to partner with them in building more clean generation, no-carbon electricity choices for Minnesota," said Eric Millard, CCO of Conti Solar.
Competitive community solar programs got their start with a 2 MW pilot program in Colorado Springs in 2011 and are now the fastest growing sector of the solar industry according to a 2018 report released by the Rocky Mountain Institute (RMI). Community solar programs and/or regulations now exist in 19 states with overall program capacity in the gigawatts.
ANB Bank has 30 banking centers located in Colorado, Wyoming, and the Kansas City metro area. Its parent company, Sturm Financial Group, Inc. is headquartered in Denver, CO, and its $2.6 billion in assets rank it in the top six percent of banks nationwide by size.
"ANB prides itself on serving local communities and were pleased to finance this project that will provide the benefits of solar to individuals and families in Minnesota," commented Bob Lynn, senior vice president at ANB Bank. "We support energy projects that directly and positively impact the municipalities in which they are located."
SunShare has developed over 90 MWdc of operating community solar gardens and serves the largest active residential subscriber base in the community solar industry. SunShares community solar gardens enable homeowners, renters, government organizations, and small businesses that may not otherwise have the ability to install solar panels on their home or building to participate in and benefit from renewable energy. SunShare executives will be attending Solar Power International September 24-27 in Anaheim, CA. To schedule a meeting during the conference, please contact SunShare@MercomCapital.com.
About SunShare
SunShare is a pioneer in community solar that has been transforming the energy industry with locally-generated solar power since 2011. SunShare has built the largest active residential subscriber base in community solar and SunShare's solar gardens give the communities they serve powerful options. While local utilities continue delivering their energy, SunShare customers simply receive credits on their utility bills that help protect them from rising electricity rates. The SunShare team is driving innovation and making solar an easy choice. Thousands of citizens, businesses, and organizations have made the decision to help create a cleaner, better future by subscribing to SunShare. Learn more at www.mysunshare.com.
Media Contact:
Wendy Prabhu
Mercom Communications
www.mercomcapital.com
SunShare@MercomCapital.com
+1.512.215.4452
Featured Product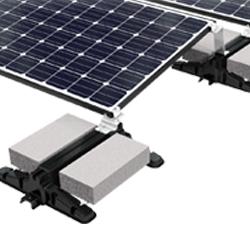 Preformed Line Products introduces the POWER MAX Ballasted Roof Mounting System. The POWER MAX solar mounting system is engineered to maximize energy output on commercial flat roofs. Developed with the professional installer in mind, this system offers adjustable inter-row spacing in the field of up to 11 inches. It features 50% fewer components and a simplified design resulting in faster assembly rates and labor savings on every project. Available in a flush mount, 5˚ or 10˚ tilt or higher density dual tilt design, the POWER MAX base arrives stacked on pallets providing easier transport to the roof. Engineered as a fully ballasted, non-penetrating system, it accepts standard concrete blocks and is qualified by wind tunnel testing.