Two of Natural Power's environmental consultants, David Tidhar and Pawel Plonczkier, will be speaking at the forthcoming Wind Farm & Wildlife Impact Workshop which takes place on 19th and 20th September in Helsinki, Finland.
Hosted by Robin Radar, this international workshop focuses on the use of radar for wind energy risk assessment and monitoring.

Pawel will be speaking as part of workshop 1: 'bird and bat mortality in wind farms: mitigation studies, which takes place from 1.35pm to 2.30pm. He will present a recent case study on the use of radar to assess movement patterns of geese in the context of a pre-construction risk assessment for an onshore project in the UK. This will discuss the future potential of radar studies using modern equipment.
David will be speaking as part of workshop 3: 'international perspectives on new environmental trends, which takes place from 4.05pm to 5.10pm. He will be highlighting an example of a poor application of x-brand radar technology from wind energy project risk assessments in the USA, and opportunities for tailoring the use of radar to improve understanding of specific risk assessments, monitoring and mitigation objectives.
This event will be of interest to anyone involved in the development or operation of wind farms, and those measuring or mitigating the impact of wind farms on birds and bats.
Natural Power offers radar ornithological services designed around particular project needs and study objectives. To find out more about our ornithological services for clients, please visit https://www.naturalpower.com/wp-content/uploads/2015/06/Ornithology_Services_Digital.pdf
To pre-arrange a discussion or meeting with our environmental team, please contact sayhello@naturalpower.com
Featured Product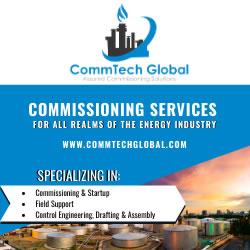 CommTech Global Solutions, LLC, provides professional and reliable commissioning services to customers in all realms of the energy industry. We blend our skills in engineering and technology with innovative business models, offering a complete range of services to assist you for a successful and in compliance operational startup. Consolidation of all our service domains gives our clients a comprehensive set of expertise and far-reaching experience on each project.