-Plans to end export tariff have sent shockwaves far beyond industry and fly in face of new EU laws -Association links up with wide range of concerned stakeholders to ramp up pressure on BEIS
The Solar Trade Association is ramping up its campaign against Government proposals to remove the fair market payment from new rooftop solar generators for the clean power they put into the network next year. Known as the 'export tariff', BEIS proposals to remove this, with no clarity on what, if anything, will replace it have created shockwaves far beyond the industry. The plan flies in the face of new EU legislation which requires all countries to remunerate 'self-generators' (people who generate their own clean power) at a fair market rate. It comes as the IPCC warns that time to prevent dangerous climate change is fast running out.

Over 300 organisations have now signed the STA's letter to Energy Minister Claire Perry urging her to reverse these proposals and numbers continue to grow.
The STA is increasingly linking up with a wide range of concerned stakeholders to convey the breadth of opposition to the proposals, including in a series of videos [1], from community energy groups and local government leaders urging fair treatment, to homeowners and school representatives reflecting on the impacts of these plans. The STA is also lobbying MPs directly in a #Fair4Solar Coalition including the NFU, Church of England, Electrical Contractors Association, WWF-UK, Community Energy England, UK Youth Climate Coalition and 10:10.
STA Advocacy Director Leonie Greene said; "Locally generated solar power is a valuable commodity so it would be wrong not to pay people for contributing to the clean energy supply we so desperately need. The export tariff is a sensible & established method for paying smaller contributors fairly in a market that remains squarely set up for very large-scale players. We all know we need to transition to a much more decentralised smart grid, but there is some way to go before the system enables people to participate on a level playing field. So it is vital that we retain the export tariff and we urge everyone who cares about solar power and the rights of everyday people to participate in the clean energy transition to join our fight for fair treatment for solar power."
The Association is urging its members, the industry and all stakeholders who care about solar power to join their lobby by contacting their MP, spreading the word on social media and signing both the Greenpeace petition, as well as the STA's letter to the Minister.
Dr Afsheen Rashid MBE, Chair of Community Energy England, said; "Why should low-carbon, small scale generators provide electricity for free to the grid? That is ultimately what government is proposing with the removal of the export tariff. We're going to see a stalling of growth in community energy as a whole. It is really detrimental because many projects are no longer going to be financially viable, and community energy offers local solutions, allowing local people to get involved in the energy system. Community energy is a key cornerstone to the government's ambition for transition to a low-carbon, smart energy system, but these plans will see that transition slowed down."
A #Fair4Solar campaign pack of social media tools is freely available for use by all stakeholders here. Eight actions people can take are set out on the STA's campaign webpage.
Featured Product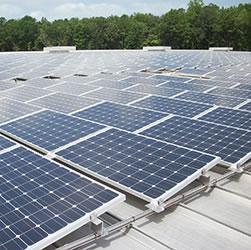 The Power Rail™ Commercial Mounting System is designed with the professional PV solar installer in mind. Both the XD/UD and LD/MD rails feature single tool assembly with the revolutionary patented RAD™ Lock-in-Place bolt for fast and secure module clamping. The high strength marine-grade aluminum rails include an integral wiring channel for securing cables and providing a professional finish.