Innovators working anywhere in the world to reduce greenhouse gas emissions or promote carbon uptake can apply at www.kcurveprize.org starting Dec. 1
ASPEN, Colorado — Exceptional projects that tackle global warming by reducing greenhouse gas emissions or increasing carbon uptake are invited to apply for the 2019 Keeling Curve Prize. Ten outstanding projects will share $250,000 in prize money, and join a supportive network that offers key contacts and advice, and opens doors to partnerships and additional funding. The prize is open to projects from anywhere in the world.

"Especially given the drumbeat of dire news on global warming — including the latest U.S. government assessment detailing how climate change is already affecting our environment, our economy, and the health and welfare of our people — its extremely important to identify and deploy solutions that attack global warming at its source," said Jacquelyn Francis, founder and director of the Keeling Curve Prize.
"Forward-thinking and tenacious people around the world are working on projects that can curb climate change, but too often, they never get the chance to scale up their projects and make a major dent in the problem," Francis said. "The Keeling Curve Prize helps problem-solvers turn promising projects into widespread solutions."
The prize is named for the iconic Keeling Curve, which shows the increase of carbon dioxide in Earths atmosphere as measured from the Mauna Loa Observatory in Hawaii. The curve reflects a decades-long series of measurements first started by Charles David Keeling in 1958.
"Its essential that we bend that curve - that we reduce emissions and slow the buildup of greenhouse gases in the atmosphere," said Aled Jones, director of the Global Sustainability Institute at Anglia Ruskin University, who sits on the Keeling Curve Prize Advisory Council. "The Keeling Curve Prize team brings together an impressive roster of judges, advisors and innovative applicants from around the world, and elevates solutions that can make a real difference in curbing the negative effects of climate change."
One of the 2018 Keeling Curve Prize winners, Chemolex, is turning invasive water hyacinth into biofuel for rural Kenyans, as a cleaner-burning alternative to charcoal and wood. The prize money allowed the company to boost production from 600 liters to 5,000 liters of biofuel at a time.
"The award money is allowing us to reach hundreds of new families," said Chemolex co-founder Clifford Okoth. "In addition, winning the award brought us to the attention of the Kenya National Innovation Agency, which has promised help with navigating government rules and licenses."
Another 2018 Keeling Curve Prize winner, Pollinate Energy, reduces carbon emissions by enabling the uptake of affordable clean energy products — including solar lamps, solar fans and cleaner cooking stoves — in Indias urban slums and across rural Nepal. Pollinate Energy gives disadvantaged community members the chance to start their own businesses selling products that improve peoples lives while cutting down on dangerous pollution.
"The prize money enabled Pollinate Energy to merge with Empower Generation and increase sales in Nepal by 400% over just two quarters," said Alexie Seller, Pollinates CEO. "And winning the Keeling Curve Prize is like a validation stamp for your impact. We've found funders look to our success in highly regarded awards programs like this one."
In 2019, $250,000 in Keeling Curve Prize money will be shared by up to ten winners in five categories:
- Energy access — improving access to low-cost, zero-emission energy in underdeveloped communities around the world
- Transportation — reducing greenhouse gas emissions in the transportation sector, from vehicles and planes to transportation infrastructure systems and manufacturing
- Carbon capture and utilization — developing, deploying and monitoring cutting-edge technologies and projects that capture carbon
- Finance — creating and deploying financial models that consider the environment and quality of life on an equal footing with economic ideals; and
- Social and cultural impacts — changing the way people think about and address humanitys impact on the environment.
Innovators from anywhere in the world may apply for the prize at www.kcurveprize.org.
To highlight the effects of global warming around the world and in the Keeling Curve Prizes own backyard, the Aspen-based organization is hosting famed mountaineer David Breashears at the Wheeler Opera House on Dec. 7. He will show dramatic images of Mount Everest and talk about the climate and mountains in a way that echoes whats happening in Aspen and elsewhere in the Rockies. Information about From Everest to Aspen: The End of Ice can be found at https://www.kcurveprize.org/from-everest-to-aspen.
Featured Product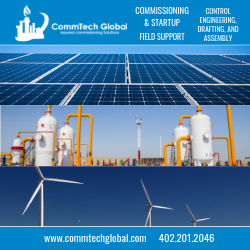 CommTech Global Solutions, LLC, provides professional and reliable commissioning services to customers in all realms of the energy industry. We blend our skills in engineering and technology with innovative business models, offering a complete range of services to assist you for a successful and in compliance operational startup. Consolidation of all our service domains gives our clients a comprehensive set of expertise and far-reaching experience on each project.