With the international science community warning lawmakers that a climate change crisis is on the horizon and a stalled manufacturing industry eager to surge forward, investing in renewable energy is more urgent and imperative than ever before.
Imperium3 is set to begin lithium-ion battery production this year at a former IBM facility in Upstate New York, and the timing couldn't be better. Advancements in green energy have earned plenty of attention in recent years, but experts now suggest that devastating consequences of irresponsible energy consumption may come sooner than expected. Meanwhile, manufacturing towns across the United States - the world's largest economy and second highest emitter of greenhouse gas - are in dire need of revitalization. With the international science community warning lawmakers that a climate change crisis is on the horizon and a stalled manufacturing industry eager to surge forward, investing in renewable energy is more urgent and imperative than ever before.

A climate change analysis published last week in Science journal suggests that Earth's oceans are warming 40% faster than a 2013 estimate published by the UN's Intergovernmental Panel on Climate Change (IPCC). This report is the latest of many alarming climate change updates - the IPCC itself released a special report last year urging lawmakers across the globe to take action, outlining high-confidence mitigation policies like carbon dioxide emission taxes and clean energy investments. Those believing a "green revolution" is well underway might be most surprised by the report's finding that the rate of ocean warming has accelerated since 1991 - the same year the Sony Corporation commercialized the first lithium-ion rechargeable battery.
Since then, there have been countless updates to lithium-ion battery (LIB) technology and many new applications, but we've only scratched the surface of LIB technology as a large-scale solution to the global greenhouse-gas emission crisis. Green energy is certainly a hot topic, but a lack of public understanding paired with concerns about the cost and reliability of renewable energy has kept much of the world hooked on fossil fuels. To avoid crisis-level climate change, the IPCC report suggests up to 67% of the world's electricity mix should come from renewable sources by 2050 - today we're at about 20%. The problem is clear, but the solution remains cloudy.
Profiteering and politics certainly play a role in these disappointing figures, but there are also significant technical and logistical barriers in the way of achieving our clean energy goals. Wind and solar are viable alternatives to coal in certain parts of the world, but these natural resources are unpredictable. In order to increase utilization of these renewables, we need to find a way to safely and reliably store solar and wind energy for long periods of time. Electric vehicles (EVs) have also become more prevalent, but we've yet to produce an affordable battery with the life-span, performance and range to viably compete with gas or diesel for commercial application and widespread personal transportation.
Lithium-ion battery cells offer a promising technological solution, but production and supply chain limitations along with high cost have hindered progress, especially here in the US. Global economic factors have made it increasingly difficult and expensive to obtain the raw materials necessary for production of most current LIB compositions. The manufacturing process can also produce toxic waste, and poor rates of lithium recycling have had negative impacts on both cost and pollution. With these factors considered, the cost of LIB production - both financially and environmentally - has presented a challenge.
Enter Imperium3 - a global consortium of unparalleled expertise in battery cell technology, LIB production and raw material supply chain solutions. Binghamton, New York-based C4V - the owner of Imperium3's core intellectual property - has teamed up with industry leading production and finance companies to pave the path forward in LIB production for clean energy storage and transportation.
The Imperium3 story begins with next generation technology, developed and patented by some of the energy industry's brightest and most innovative minds. Dr. Shailesh Upreti, C4V President and globally recognized energy storage expert, earned a $500,000 award in 2016 at the largest US clean-tech business competition - New York State's 76West Clean Energy Competition - for his patented advancements in LIB technology. Imperium3 has strategic rights to this patented lithium ion technology, which delivers increased capacity, longer life cycle, higher voltage, and improved safety - all at a lower cost of ownership and green manufacturing. Dr. Upreti's recognition by New York State's energy advancement agency marks the culmination of a 12-year journey in Upstate New York, including 5 years with Professor M. Stanley Whittingham on the campus of Binghamton University. Professor Whittingham, whose role in the invention of the lithium-ion battery earned him a nomination for the Nobel Prize in Chemistry and election to the National Academy of Engineering, is still a mentor to Dr. Upreti.
With industry-leading technology as it's foundation, Imperium3 has set out to deliver the future of LIB production in the US and achieve 1 gigawatt per hour output by 2020 - a feat only achieved by a handful of plants across the globe. But why upstate New York?
Just a few miles from the campus of Binghamton University, where Professor Willingham directs the Lead Institution of the NorthEast Center for Chemical Energy Storage (a US Department of Energy Frontier Research Center,) is the village of Endicott - a small town with a long resumé, most widely known as the birthplace of IBM. Starting with "Plant No. 1" in the early 1900's, IBM's Endicott campus would become one of the world's most impressive high-tech manufacturing hubs. At its peak, the campus was home to over 10,000 employees and 3 million square feet of space dedicated to manufacturing, engineering and support operations. With the decline of US manufacturing - a trend painfully familiar to many communities across the nation - IBM's presence in Endicott has dwindled considerably over the past few decades. Left behind is a high-value opportunity zone with an unmistakable identity - acres of underutilized industrial infrastructure and a proud, talented workforce eager to usher in a new generation of high-tech manufacturing.
Imperium3 is poised to lead the way forward, with operations already underway to repurpose 600,000 square feet of the former IBM campus for phase-1 manufacturing. The site comes equipped with onsite power plant, several million gallon/day recycling plant, on-site rail transportation access, 150 acres open for expansion, and utility supply at very competitive rates. The site's highly compatible existing infrastructure offers tremendous potential, drastically reduced set-up costs and a fast-track to the world's 7th Gigafactory.
With the stage set for a manufacturing revitalization, New York State has been eager to play host. Since Dr. Upreti's 2016 recognition by the State's Energy Advancement Agency, New York has doubled-down on clean energy investments; committing >$13.25 million to support Phase 1 of the Imperium3 project, which aligns perfectly with the NY 50-by-30 initiative. Announced in 2016 by Governor Andrew Cuomo, the initiative outlines a state mandate to achieve 50% renewables by 2030. On top of the financial incentives, New York's commitment to lead the nation in energy advancement puts Imperium3 in close proximity to e-Mobility market innovators and a sustainable, ethically-sourced supply chain.
To further accelerate the New York project, Imperium3 purchased the factory assets of North Carolina-based battery plant Alevo in 2018. The sale, which included factory equipment with an estimated value over $200M, when restructured and lines added would have >1 GWh production capability. With most the equipment already in place at the Endicott site, consortium leaders estimate the opportunity zone infrastructure to be worth over $600M.
The pieces are in place and the time is right, but the path forward will be challenging, and project execution is imperative. Over the past few years, Dr. Upreti has assembled a top-notch team of executives that are taking on this challenge to convert existing resources into a world-class manufacturing ecosystem. With unparalleled expertise, next-generation LIB technology, dozens of supply chain partners and the infrastructure in place, Imperium3 New York is ready to drive the US forward in the green energy revolution.
Featured Product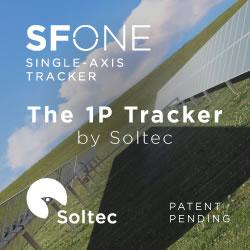 SFOne is the 1P single-axis tracker by Soltec. This tracker combines the mechanical simplicity with the extraordinary expertise of Soltec for more than 18 years. Specially designed for larger 72 an 78 cell modules, this tracker is self-powered thanks to its dedicated module, which results into a lower cost-operational power supply. The SFOne has a 5% less piles than standard competitor, what reduces a 75% the labor time.