Mana's national market momentum underway with energy monitoring and solar energy asset management services for 300 sites
Mana Monitoring, Hawaii's leading provider of advanced, flexible solutions for energy monitoring and solar energy asset management, capitalized on the growing market demand for its SaaS-based solution by signing 40 energy-efficiency projects during 2018. By responding to new regulations, market structures, renewable energy sources, and the continued evolution of smart-grid infrastructure, Mana Monitoring has established an impressive installed base nationwide and is well positioned as it expands its market focus on national opportunities in 2019.

"Our vision is to serve businesses globally with the insights gained here in Hawaii," said Mana Monitoring CEO Zoltan Milaskey. "Since starting Mana some five years ago, new opportunities to apply sustainability and renewable-energy management have grown rapidly. Energy efficiency is at the forefront of cost-based decisions and mandated RPS across the nation, and solar PV installations are being added at an exponential rate. Companies and government agencies look to Mana for implementation of single point-of-use solutions that manage their energy assets and derive the best return from diverse energy portfolios. We look forward to expanding in 2019 with a special focus on grid-edge integration."
The rapid proliferation of solar PV energy has brought energy independence within reach of commercial businesses, government agencies, and non-profits. Measuring energy generation and consumption is critical, but interfacing with the wide variety of building and energy-generation assets poses significant technical challenges. Mana Monitoring's Aggregator Software is a hardware-agnostic solution to these challenges and has emerged as a proven solution for:
1. Commercial property owners/managers and owners with a large portfolio of buildings/facilities;
2. Solar PV installer companies, PPA owners/asset managers, and the operations and maintenance (O&M) companies that service them.
Mana Monitoring - 2018 business highlights
Mana Monitoring currently provides energy monitoring and reporting services for 300 sites nationwide. Approximately 200 MW of renewable-energy systems are managed and monitored through Mana platforms. Contracts signed during 2018 include school districts, utility cooperatives, and shopping centers. Business highlights for 2018 included:
Hawaii State Department of Education. Mana Monitoring was awarded the Energy Efficiency Data Integration Platform contract by the Hawaii State Department of Education (HDoE). The project scope includes integrating all of the department's various energy initiatives into the Mana Monitoring platform, including tracking energy usage and the generation of on-site renewable energy. The aim is to help Hawaii track progress, measure milestones, and make informed capital investments based on data-driven analysis in order to reach the state's goal of 100% renewable energy by 2045. To date, the project includes: integration of 200+ schools' electric meters, 110+ solar PV systems, and 110+ MET stations.
"Mana's ability to rapidly integrate and consolidate our energy infrastructure has been elemental in advancing the state's ambitious energy efficiency targets," said Riki Fujitani, HDoE director of auxiliary services branch.
Buffalo Public Schools. Mana Monitoring was commissioned to integrate the Buffalo Public Schools (BPS) Renewable Solar Energy systems across 19 sites for a total of 3 MW on behalf of the system owner. Located in Erie County of western New York, BPS serves approximately 34,000 students in Buffalo and operates nearly 70 facilities. It is the largest solar project completed for a public-school district in New York State and is expected to generate about 3.4 million kWh of power each year-enough to power 220 homes annually. The completed integration included 19 solar energy meter and 99 SMA TL series inverters along with Weather data. Mana's Solar Aggregator helps maintain the systems for optimum yield and coordination between the local O&M company (Montante Solar) and the Asset Owner (RCE) ultimately reducing the school districts carbon footprint and energy dependence.
CEC and CNMEC: Mana Monitoring integrated two large-scale renewable-energy facilities into its platform during Q4 of 2018, including a 2.3 MW facility for the Columbus Electric Cooperative in New Mexico and a 2.6 MW facility for the Central New Mexico Electric Cooperative. This brings the total MW monitored to nearly 174 MW in New Mexico.
Platform enhancements address the evolving needs of asset managers and solar PPA providers
During 2018, Mana solidified its position as Hawaii's top EnergyIoT (Energy Internet of Things / EIoT) integrator, offering hardware-agnostic monitoring and metering services that interface and integrate with a wide variety of devices. The latest update of the Mana Monitoring Aggregator Software ensures data reliability and consistency with source data, and a new "Data Reconciliation 2.0" feature that enables asset managers to quickly invoice tenants.
According to Allen Wilson, project finance manager of Rockwell Financial Group, "Mana Monitoring has greatly benefited RC Energy Group. By consolidating our portfolio of sites into a single platform, Mana has streamlined monitoring and invoicing, making management of the sites significantly more efficient. Mana's updated validation and reconciliation features have further improved our ability to reliably consolidate production data from various sites, ensuring timely and accurate billing. The development team at Mana has been extremely responsive to questions and end-user suggestions, making the tool more useful with each improvement."
For solar PPA providers and Operations and Maintenance (O&M) companies who depend on Mana's Aggregator platform to automate their billing and maximize the uptime of their solar PV systems, Mana added several efficiency enhancements to its platform. Mana's platform now connects to numerous data sources, automatically imports and normalizes energy data, and provides automated batching and invoice generation that can reduce complex billing procedures from days to minutes.
Bob Johnston, president, Hawaii Pacific Solar, said, "Mana has proven to be a one-stop shop for consolidated monitoring, O&M operations, and system management, helping us drive one of the most effective O&M operations in the state."
ABOUT MANA MONITORING
Mana Monitoring helps energy professionals in the commercial, government, and non-profit sectors attain their renewable-energy objectives. The Mana Monitoring's Solar Aggregator Software is a single-source monitoring aggregator and asset management platform that is flexible, scalable, and compatible with a wide range of solar PV and other renewable energy sources. For commercial property owners/managers and entities that manage a group of buildings/facilities, Mana Monitoring's Energy Aggregator Platform provides a real-time energy dashboard and reporting platform designed for non-technical users. For O&M/installer companies, PPA owners/asset managers, and energy utilities, Mana Monitoring provides comprehensive monitoring and reporting services to ensure their renewable-energy assets are operating at peak performance. Headquartered in Lahaina, Maui, Mana Monitoring is privately held. For more information, visit http://www.manamonitoring.com.
Featured Product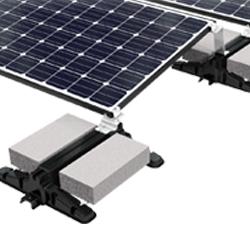 Preformed Line Products introduces the POWER MAX Ballasted Roof Mounting System. The POWER MAX solar mounting system is engineered to maximize energy output on commercial flat roofs. Developed with the professional installer in mind, this system offers adjustable inter-row spacing in the field of up to 11 inches. It features 50% fewer components and a simplified design resulting in faster assembly rates and labor savings on every project. Available in a flush mount, 5˚ or 10˚ tilt or higher density dual tilt design, the POWER MAX base arrives stacked on pallets providing easier transport to the roof. Engineered as a fully ballasted, non-penetrating system, it accepts standard concrete blocks and is qualified by wind tunnel testing.