"Let's Aim for 200 million solar roofs!" Suvi Sharma, CEO of Solaria Corporation.
California's leadership in technology and clean energy is well established. Waves of innovation that commence in California reverberate across the nation, carrying advancements developed in Silicon Valley and on the Pacific Coast eastward — until they eventually reach the entire United States. Our region has become a clean tech trailblazer, leveraging innovations (solar, EVs) and other clean power initiatives that make our air cleaner — and our lives healthier, easier and safer.

California's solar leadership owes its success to forward-looking policies: the solar investment tax credit (ITC), solar net metering, the California Solar Initiative, the creation of a statewide Renewable Portfolio Standard, and most recently, a new standard to outfit with solar all new homes built in California after January 1, 2020. These smart, savvy policies have served our state and its residents well — creating quality jobs, as well as productive policy and business models that are now being replicated in states and municipalities across the land.
This week marks a significant milestone for solar: it took the U.S. 40 years to deploy one million solar rooftop systems. This week, we learned it took only two years after that to double that number. There are now 2,000,000 solar roofs in the U.S. … an achievement realized in about 24 months.
Since 2014, California's distributed, on-site solar electricity deployment has increased by approximately 310%. California is now one-third renewable resource powered; 34% of the state's retail electricity sales in 2018 came from renewable resources. And, the Golden State is on track to soon be home to one million solar roofs — half of all solar-outfitted U.S. roofs nationwide.*
Solar is now mainstream. In fact, it's the most economical way to generate new power. But there have been some impediments that have slowed down what had been phenomenally rapid solar growth; misconceptions about the impact that renewable technologies have on jobs and the economy. Federal tariffs imposed on solar modules and components have led to reductions in crucial investments that advance R&D and, ironically, are costing jobs in California and throughout the U.S.
We're now on the threshold of sweeping changes in how we power our homes, businesses and lives. Electricity will increasingly be provided by harnessing the sun, wind and other renewable resources — buffered by battery storage. The U.S. has embarked on a new age of clean energy… what we envision as a post carbon era that can better address climate change, create new jobs, and improve quality of life. 'Behind the meter' energy consumers are seeing more local energy production with the increased deployment of solar installations, on-site storage, and enhancements in energy efficiency. 'Front of the meter' entities (utilities, energy producers) are implementing new mechanisms for cleaner energy production, including 'time shifting' — implementing advanced, responsive communications / technologies to better balance energy production and consumption.
Our planet is at a pivotal point. We're facing political and social upheavals, and increasingly serious climate issues. With this in mind, my solar colleagues and I continue to focus on advancing promising innovations … doing our part to make the world a better place.
There are enormous challenges before us. With tremendous clean energy advancements and accelerated adoption, we're optimistic about the vital role that wider solar deployment will play in combating climate change and ensuring a cleaner, safer, healthier and more secure planet for all.
We have a choice. To ensure a cleaner energy future, smart regulatory and policy support will be critical. To spur the continued rapid deployment of solar — to advance from two million solar rooftops to 200 million — it's vital that we elect political representatives who are committed to enacting forward-looking clean energy policies and regulations that move us away from fossil fuel consumption. The shift toward clean energy will benefit California, our nation, and the entire world for generations to come — if we act now.
To me, the choice is obvious.
…
The author, Suvi Sharma, is the CEO of Solaria Corporation, located in Northern California.
*Per California Energy Commission
Featured Product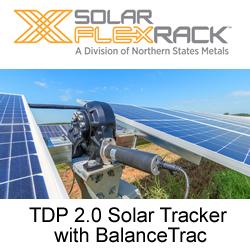 Solar FlexRack's latest solar tracker technology bundles an advanced tracker design with a full team of seasoned engineering and installation experts at your service. The next-generation solar tracker delivers a package of features that both enable increased energy yields for commercial and utility-scale solar installations, and significantly reduce project risks. That translates to smart installation cost-savings across your project budget.