The artificial intelligence in renewable energy industry is expanding at a CAGR of 27.9% from 2021 to 2030. The study shows that AI-related technologies may efficiently address problems connected to integrating renewable energy with power systems, such as forecasting solar and wind energy, controlling the frequency of the power system, and assessing transient stability.
The market in the United States is fueled by favorable laws and strategies as well as the large supply of biomass feedstock. The country's number of renewable energy facilities has expanded as a result of strict government emission limits. With the rising use of gas-based and renewable power sources compared to coal-based power generation, the country's electricity situation has been changing. The demand for renewable energy is anticipated to increase due to factors such as increased electricity distribution prices, power outages brought on by faults in the main grid, and incentive schemes launched by the US government. One of the key markets in Europe and a developed economy is Germany. In order to become energy independent and less dependent on traditional sources like crude oil, coal, and others, the nation has made investments in unconventional power production technologies over the past few years.

The global artificial intelligence (AI) in renewable energy market size is projected to reach around US$ 75.82 billion by 2030 and it is expected to grow at a CAGR of 27.9% from 2022 to 2030.
How are renewable energy markets structured in the United States?
Two categories of consumers make up the renewable electricity market in the United States: those who are compelled to buy it and those who do so freely. In general, purchasers prefer to publicly indicate or disclose that they are utilizing or acquiring renewable energy, regardless of whether they are compelled to do so or not.
Markets that are mandatory or compliant exist as a result of policy choices like state renewable portfolio mandates (RPSs). Electric service providers who are subject to RPSs are required to use a minimum percentage of renewable energy in their electricity supply. These policy decisions frequently list acceptable energy sources or technological advancements and establish the requirements for electricity service providers. When establishing required market resource and technology eligibility criteria in these markets, regulators frequently take into account factors other than environmental features (such as economic or job growth). To prove compliance with statutory renewable energy regulations, electricity service providers utilize renewable energy certificates (RECs).
Consumer demand for particular forms of renewable energy drives voluntary markets, sometimes known as "green power markets." A consumer can purchase renewable electricity at levels above and above what statutory policy decisions require through voluntary markets, which also helps them lessen the environmental effect of their electricity use. For voluntary green electricity products to be successful, they must provide buyers with a considerable advantage and value.
The future of energy with artificial intelligence and renewables
Technology is developing at an astounding rate. So much so that many of us are unable to keep up in a meaningful way. Our world will change in unimaginable ways over the coming years and decades as a result of Artificial Intelligence's (AI) ever-rising sophistication!
Renewable energy is no different in this regard. AI can identify trends and learn from enormous amounts of data. As a result, it is able to make adjustments to maximize energy efficiency, conversion, and distribution. These methods provide precise forecasting of the weather and load. Among many other uses, reducing the danger of an electrical surge.
Key elements fueling the growth of the global artificial intelligence market in the energy sector include the rising need for operational efficiency to fulfill energy demands.
Decentralized energy sources can use AI software to transfer any excess electricity they generate to the grid, and utilities can then direct that power to where it is required. Similar to how energy storage in commercial buildings, residential residences, and automobiles may store excess energy when demand is low, AI can use that energy when generation is insufficient or impossible.
That many moving pieces necessitate coordination, forecasting, and optimization in order to maintain the grid's balance. When DERs are viewed as individual musicians, a utility serves as the conductor who keeps the orchestra in time while AI creates the symphony in real time.
Companies in the energy sector are identifying AI flaws before energy failures
Artificial intelligence is required in all industrial environments. The implementation of AI gives the energy sector a particularly strong potential for growth. In essence, artificial intelligence equips a machine with the ability to learn and make decisions in order to address problems or enhance results in order to accomplish a task. There are various decisions that must be made in the energy industry fast and with a lot of data. These critical decisions may be made in the most efficient manner possible by artificial intelligence, which necessitates the immediate collection and processing of these enormous volumes of data.
Smart grids carry data together with power. When using intermittent and erratic sources like solar and wind, it is essential to effectively balance generation and consumption. Artificial intelligence's potential for usage in the energy sector includes helping us address problems like climate change, the effects of technological development on emissions reduction, energy balances, and environmental impact, among other things. One of its most important applications is that it helps to increase the effectiveness of generation systems, design technologies, and the manufacture of energy-efficient items. Machine learning, also known as automatic learning, is a critical component of artificial intelligence.
Major Developments
In 2020, the revenue share of Artificial Intelligence in the Energy market in the renewable energy management category was significantly higher. The increased demand for low carbon emissions during the forecast period will probably lead to an increase in the use of AI for managing renewable energy.
In 2020, In terms of revenue, North America dominated the global market for artificial intelligence in the energy sector. The region's expanding use of smart home and smart meter solutions based on artificial intelligence is driving increased demand for AI in the energy sector.
Accenture PLC, Amazon Web Services, Inc., AutoGrid Systems, Inc., Cisco Systems, Inc., C3 IoT, Inc., General Electric, HCL Technologies Ltd., Huawei Technologies Co., Ltd., IBM Corporation, and Intel Corporation are some of the leading market participants.
Due to the rising need for effective and potent hardware devices that can be utilized for building and deploying AI models, the hardware segment is anticipated to grow at the greatest CAGR throughout the projection period.
Because service providers provide a wide range of services, including consultancy, deployment, and maintenance, to assist enterprises in implementing AI solutions, the services category is anticipated to expand at a considerable CAGR throughout the projected period.
Because of the growing demand for high-quality data sets that can be used to train AI models, the data segment is anticipated to expand at a considerable CAGR over the projected period.
Ask here for more details | Call: USA - +1 9197 992 333 | Email:

sales@precedenceresearch.com
Featured Product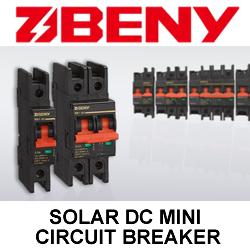 The BB1-63 modular miniature circuit-breakers can be used in solar DC circuits up to 1200 VDC (4-poles execution). Application in solar DC circuits, battery energy storage systems and UPS. Arc flash barrier design keeps solar equipment more safe and reliable. For DC circuit over-current protection.