• The financing aims to strengthen the growth of the asset management and exploitation business (Soltec Asset Management) • With this deal, the Company strengthens its goal of converting its business into a vertical integrated IPP (Independent Power Producer) player of relevance in the renewable energy sector
Murcia, 16 January 2023. Soltec, Spanish listed Company leader in the renewable energy sector, has announced the signing of a €100 million financing agreement with the credit fund advised by Incus Capital to fund its renewable asset management and exploitation business (Soltec Asset Management).

Through this agreement, Soltec seeks to add value to and speed up the growth of Soltec Asset Management, its business division dedicated to the investment, exploitation, and management of renewable energy assets, and guarantees the construction and operation of some of the projects in the project development portfolio, mainly in Europe (Spain, Italy) and Brazil.
The Company announced this new division in 2022 to gradually become an IPP (Independent Power Producer), within the vertical integration strategy included in its 2022-2025 Strategic Plan. Soltec has two other business divisions: the industrial division and the project development division.
Soltec's CEO, Raúl Morales, says "This deal allows us to vertically integrate and to begin to enhance the real value of our renewable business, while providing us with the necessary funds to continue with our ambitious roadmap for the coming years".
Soltec has retained Mirabaud as financial advisor, and Uria Menéndez as legal advisor.
Incus Capital, on the other hand, has had Taiga Mistral as technical advisor, and Linklaters as legal advisor.
13.7 GW under development globally
The development division's (Soltec Development) pipeline totals 13.7 GW of projects (as of September 2022) at different stages of completion, and is present in eight countries: Spain, Italy, Denmark, Romania, Brazil, Colombia, the United States and Mexico.
The division reveals a highly positive evolution and a very balanced and even exposure of its project pipeline: 46% in Europe and 54% in the Americas.
The development division's target is to develop the projects up to RTB ("Ready to build"), and at that moment sell them to a third party, or to the asset management and exploitation division (Soltec Asset Management), which is expected to have a portfolio close to 1 GW by 2025.
Currently, 117 MW are in operation corresponding to two projects in Spain and Brazil, and the Company has 112.5 MW under construction in Brazil, corresponding to the Araxá project (Minas Gerais, Brazil), which will shortly be connected to the grid, and 5 MW in Spain, set to be completed in 2023.
A competitive advantage: vertical integration
Soltec began the execution of its 2022-2025 Strategic Plan last year, through which it announced the creation of a new business division targeted at asset management: Soltec Asset Management. Through this division, the firm expects to obtain an additional revenue stream from the sale of energy that provides recurrence, strength and stability to the Company. Likewise, it will also allow it to stand apart from its competitors and maximize the value of its projects, while mitigating existing risks in the value chain thanks to geographic and business diversification.
In the roadmap it published for the coming years, Soltec expects to achieve revenues amounting between €780- 840 million through its three lines of activity (industrial, project development and asset management). The Company also aims to achieve an EBITDA within the range of €100-120 million.
This is expected to be achieved thanks to the synergies between the different divisions and the recurrence and strength provided by vertical integration, along with the growth prospects for the solar industry over the next years.
Featured Product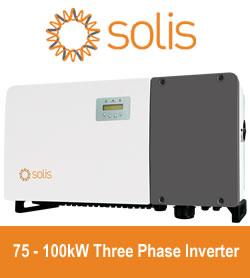 Solis75kW - 100kW series high-power string inverters are widely used in industrial and commercial rooftops. Solis's new three-phase string inverter is the first choice for industrial and commercial photovoltaics. 75-100kW three phase series string inverter have Maximum 28 strings input, support "Y" type connection in DC side. Maximum string input current 13A, support bifacial modules access.Supports anti-PID function to improve system efficiency.