Untrained workers installing photovoltaics (PV) can lead to issues, so it's imperative to train your employees about solar PV connector safety.
The Electrical Safety Foundation International (ESFI) and The National Electrical Manufacturers Association's (NEMA) Solar PV Council are partnering to raise awareness of solar PV connector safety. Improper installation and connector issues can cause fires and injure workers, so proper installation is imperative. In some cases, connectors with high operating temperatures may be the only warning sign of PV failure. Follow these tips on recommended installation practices and warning signs of failure:

Recommended Installation Practices
Manufacturer provided or recommended tools must be used.
Only use connector parts from the same manufacturer. Interoperability issues may occur when using connectors from different manufacturers.
2020 NEC UL6703 requires that two parts of connector pairs must be tested together and certified for inter-matability.
Ensure open connectors and cables are protected from exposure prior to installation. Any connectors that are damaged, soiled or exposed to water before installation should be discarded.
Why Failures Happen
Soiled and dirty, mismatched, or counterfeit connectors
Improper installation
Lack of training
Faulty materials
Improper installation tools
Warning Signs of Failure
Loose or disconnected connectors
High temperatures and melted, discolored, or cracked casing
High resistance due to soiling, corrosion, foreign particles, or improper surface contact on metal contacts
Increased alarms on monitoring systems
Moisture or water ingress - broken seal and/or separated connectors
Material degradation and exposure to elements
Diagnosing and Preventing Connector Failures
Proper training and education are the best prevention measures.
The manufacturer's assembly instructions should be followed.
Use thermal imaging to find abnormal temperature readings.
Thermal imaging on the ground can identify issues. Drone imaging may miss connector issues that are underneath modules.
Visually inspect connectors to locate any physical or heat-related damage.
Issues with connectors can cause power loss or fires and create ground faults that could be lethal.
Issues impact performance, cause downtime, and have a monetary impact.
If you would like access to free electrical safety materials you can share throughout your workplace, including a Solar PV Connector Safety infographic, visit esfi.org and NEMA Solar PV Council.
ABOUT ESFI
ESFI is a 501(c)(3) non-profit organization dedicated to promoting electrical safety at home and the workplace. For more information, visit esfi.org.
Featured Product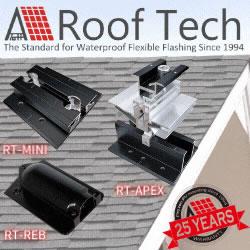 Now Roof Tech brings you the most innovative, watertight mounting systems ever developed for solar photovoltaic systems. Designed and manufactured exclusively for us by Japan's longtime leader in roofing technologies, Roof Tech products are 100% code-compliant and offer fast, simple installation and huge savings on shipping costs due to their compact, rail-less design. Learn more about our full line of versatile PV mounting solutions now available for residential installations. The next generation in rooftop solar mounting solutions."