The next in-person workshop will take place in Long Beach, CA at Intersolar North America and Energy Storage North America 2023 conference on February 14th and 15th.
MILPITAS, Calif. - 3rd February 2023 - SolarEdge Technologies, a global leader in smart energy technology, announced today a series of initiatives, including virtual and in-person training workshops, set to help California PV installers to drive sales in the run-up to and following the introduction of NEM 3.0 - the removal of Net Energy Metering (NEM) beginning April 14th. The next in-person workshop will take place in Long Beach, CA at Intersolar North America and Energy Storage North America 2023 conference on February 14th and 15th.

The introduction of NEM 3.0 will see the transition of the California solar landscape into a self-consumption market with time of use rates. In the upcoming workshop, SolarEdge will share its experience and knowledge based on similar transitions that occurred in recent years in the European market. Set to support installers in meeting the expected demand to complete applications for new PV systems before the NEM 3.0 deadline, SolarEdge experts will also provide practical training and tools to help installers take advantage of the opportunities offered post-April 14th. Topics in the workshops will include:
• Overview of NEM 3.0: Changes, timeline and expected impact
• Pre-3.0 launch: How installers can build urgency - and sales - with homeowners
• Post-3.0 launch: How technology can help installers to meet customers' needs in a post-net-metering era
Amir Cohen, General Manager, SolarEdge, said: "While the idea of a self-consumption market is new for California, a number of other countries, particularly in Europe, have already successfully made the transition from net-metering to a self-consumption market, and have emerged stronger and more resilient than before. The transition will bring new challenges for installers, but also new opportunities for growth.
"As a global supplier of both PV and storage technology, we believe we are ideally positioned to provide installers with the expertise and solutions they need to navigate the changes in the weeks and months ahead. Our home battery supply chain is strong with the inventory needed to meet NEM 3.0 demand," Cohen added.
This workshop series follows the recent introduction of the SolarEdge Home residential battery in North America - ideally suited to support NEM 3.0. Introduced as part of the SolarEdge Home smart energy management ecosystem, the battery's DC-optimized design generates more energy by eliminating unnecessary power conversions that are typical in AC-coupled
systems. This can add up to 10 days of saved energy for every year of use . It also reduces dependency on the grid by enabling reliable multi-day battery backup.
Barry Cinnamon, President of Californian-based installer, Cinnamon Energy Systems, commented: "We're seeing very strong demand for batteries coupled with solar systems as homeowners strive to maximize the reliability and savings from their systems. The benefits of the SolarEdge Home battery simplify our installations since the commissioning time and DC-coupled design allows us to connect the battery directly into the inverter without the need for additional equipment. In addition, the SolarEdge Home Battery exceeds the requirements of the UL9540a safety standard — which means we can install more batteries in the limited space that homeowners have. Additional battery capacity means that customers can avoid the purchase of expensive grid electricity, thereby improving the payback period," Cinnamon concluded.
SolarEdge's NEM 3.0 installer workshops will run throughout Q1 and Q2. Register here (https://marketing.solaredge.com/sales-elite-events) for a virtual event or attend in-person by visiting SolarEdge at Intersolar North America at Booth 1703.
Featured Product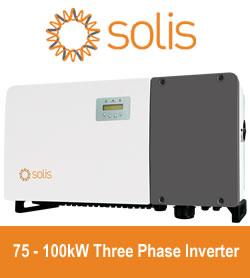 Solis75kW - 100kW series high-power string inverters are widely used in industrial and commercial rooftops. Solis's new three-phase string inverter is the first choice for industrial and commercial photovoltaics. 75-100kW three phase series string inverter have Maximum 28 strings input, support "Y" type connection in DC side. Maximum string input current 13A, support bifacial modules access.Supports anti-PID function to improve system efficiency.