Leading renewable energy consultancy and service provider, Natural Power, has delivered technical due diligence on behalf of NTR plc in support of its acquisition of the 46 MW Momerstroff wind portfolio in the Grand Est region of France from EcoJoule Energy GmbH and éolec SAS, part of German developer deanGruppe.
The two-project portfolio comprises Momerstroff I, which has been operational since 2006 and consists of five turbines with a total capacity of 11.5 MW; and Momerstroff II, which is in the later stages of development and commercial operation is expected to start in Q1 2026. Once complete, Momerstroff II will include up to ten turbines totalling 34.5 MW.

Natural Power conducted a series of reviews for the two projects including permitting, project compliance with environmental code and permits (ICPE regulation), contractual, land lease and maintenance contracts as well as civil works, energy yield assessments and physical inspection of the wind turbines.
The work was led by Natural Power's team in France. Giles Dearden, Director of Due Diligence at Natural Power, said: "As a provider of high-quality, detailed project analysis and portfolio due diligence studies, we continue grow our global knowledge-base, and have a very well-established business in France. With extensive local knowledge and expertise in-house, we're delighted to be able to support NTR with this latest acquisition in France."
Liam Lyng, Associate Director, Construction at NTR plc, said: "We are delighted to expand our assets under management in France to well over 100MW by acquiring the Momerstroff portfolio, and support green energy transition to decarbonisation and security of supply in the French market. We are very pleased to continue our relationship with Natural Power, who supported and provided full wrap technical due diligence for the portfolio of operational and pre-construction projects."
Natural Power has provided market leading analysis services for more than 145 GW of renewable energy projects globally. It delivers a variety of advisory support services on an on-going basis; and its experience help banks, developers, independent power producers (IPPs), utilities and investment funds make good financial decisions when it comes to green energy projects. Find out more here www.naturalpower.com/uk/expertise/service/advisory/due-diligence
Featured Product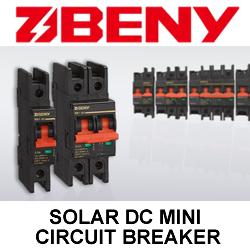 The BB1-63 modular miniature circuit-breakers can be used in solar DC circuits up to 1200 VDC (4-poles execution). Application in solar DC circuits, battery energy storage systems and UPS. Arc flash barrier design keeps solar equipment more safe and reliable. For DC circuit over-current protection.