-Supports Li-Cycle's Rochester Hub, which is expected to be the first source of recycled battery-grade lithium in North America -First support from DOE ATVM Program for a resource recovery facility and sustainable pure-play lithium-ion battery materials recycling company
Li-Cycle Holdings Corp. (NYSE: LICY) ("Li-Cycle" or the "Company"), an industry leader in lithium-ion battery resource recovery and the leading lithium-ion battery recycler in North America, is pleased to announce that Li-Cycle and the U.S. Department of Energy ("DOE") Loan Programs Office ("LPO"), through its Advanced Technology Vehicles Manufacturing ("ATVM") program, have entered into a conditional commitment for a $375 million loan (the "Loan").

The conditional commitment follows extensive DOE technical, market, financial and legal due diligence and marks another significant milestone endorsing Li-Cycle's development of the first commercial hydrometallurgical resource recovery facility in North America, located near Rochester, New York (the "Rochester Hub"). This is the first conditional commitment from the DOE ATVM program for a sustainable pure-play battery materials recycling company and the program's main support for the lithium-ion battery recycling industry.
The Rochester Hub is expected to become a significant domestic source of battery-grade materials, including lithium, nickel and cobalt, and will be the first-of-its-kind commercial facility in North America. Receiving the conditional commitment is a significant step in the lending process and reflects the DOE's intent to finance the project; however, the Loan remains subject to documentation of long-form agreements and certain conditions will have to be satisfied prior to closing, which is currently expected to occur in calendar Q2 2023. The Loan will have a term of up to 12 years from financial close, and interest on the Loan will be the 10-year U.S. Treasury Rates from the date of each advance for the Loan.
"We are delighted to receive the first conditional commitment from the DOE LPO for a resource recovery facility, as it further supports our efforts to create a sustainable domestic supply chain of battery-grade materials in the U.S. and to grow American jobs," said Ajay Kochhar, Li-Cycle Co-Founder, President and Chief Executive Officer. "The Rochester Hub is a cornerstone asset for Li-Cycle and its stakeholders and will be an important contributor to the clean energy economy. As a sustainable pure-play battery material recycling company, we expect the Rochester Hub will position Li-Cycle as a leading domestic producer of recycled battery-grade materials for accelerating electrification demand to address climate change and secure energy independence."
"We would like to thank the DOE LPO team for their time, support and partnership during this process, and we look forward to our collective efforts to complete the final agreements," commented Debbie Simpson, Li-Cycle Chief Financial Officer. "This strategic financing achieves our commitment to execute on additional funding opportunities with debt that best optimizes our capital structure. The possibility of this substantial amount of government funding at favorable terms enhances our already robust balance sheet and provides flexibility for continued expansion and future growth plans."
"$375 million will now supercharge Li-Cycle here in Rochester, with 270 good-paying jobs, to become one of America's largest suppliers of recycled materials for batteries. Last year, I stood alongside Li-Cycle's powerhouse workforce and promised I would push to deliver federal funding to spark more growth, and now thanks to the investments I secured in the Inflation Reduction Act, Rochester will help power America's drive to lead in battery technology," said Senator Charles Schumer. "This DOE investment in Li-Cycle will reduce our reliance on China and strengthen America's battery supply chain. And once the facility is at full steam, it is projected to be the biggest source of lithium carbonate in the United States. That means the heart of hundreds of thousands of electric vehicles, which will soon dominate our roads, will be made with battery components from right here in Rochester."
"I am thrilled the Department of Energy has recognized the enormous potential of Li-Cycle's Rochester Hub and is choosing to invest not just in them, but in the future of our clean energy economy," said Congressman Joseph Morelle. "Li-Cycle is leading the way in cutting-edge technology that is strengthening our domestic supply chains while creating a more sustainable planet for all of us. I look forward to my continued work with Li-Cycle, Senator Schumer, and all of our partners to support their growth and expansion for years to come."
Livestream Link for Special Event today at 11 a.m. ET
A livestream link for the special event at Li-Cycle's Rochester Hub facility is available on YouTube here and available on LinkedIn here. Brief remarks will be made by U.S. Senate Majority Leader Charles E. Schumer, Congressman Joseph Morelle, state officials, and Li-Cycle leadership team members, including Li-Cycle's co-founder and CEO, Ajay Kochhar.
U.S. Spoke & Hub Network
Li-Cycle's Spoke & Hub business model is focused on an innovative vertically-integrated two-step lithium-ion battery recycling and resource recovery process. This supports the building of localized supply chains for battery-grade materials to accelerate the clean energy transition. The Company continues to scale its Spoke & Hub network to enable up to an overall 95% recycling efficiency rate. Li-Cycle's Spoke & Hub Technologies™ enable the return of battery materials back to the domestic supply chain for re-use by battery manufacturers and electric vehicle and energy storage producers for a circular economy.
Spokes
The Spokes utilize the Company's patented and environmentally friendly technology to recycle end of life battery materials and manufacturing scrap, including directly processing full electric vehicle and energy storage battery packs through a submerged shredding process without any discharging or dismantling.
Currently, Li-Cycle has four operational Spokes in North America with total processing capacity of more than 50,000 tonnes of lithium-ion battery material per year. The Spokes produce an intermediate product called black mass, which contains a number of critical metals and will be sent to the Rochester Hub for further processing into battery-grade materials.
Rochester Hub
The Rochester Hub is expected to be the first commercial hydrometallurgical resource recovery facility in North America. The Rochester Hub's hydrometallurgical process produces no wastewater discharge, minimal solid waste streams and relatively low air emissions.
The Rochester Hub is designed to have a processing capacity of up to 35,000 tonnes of black mass per year, which is equivalent to approximately 90,000 tonnes of lithium-ion battery material or 18 gigawatt-hours (GWh) of lithium-ion batteries. Once fully operational, the Rochester Hub is expected to deliver annual production of up to 8,500 tonnes of lithium carbonate, 48,000 tonnes of nickel sulphate, and 7,500 tonnes of cobalt sulphate.
The Rochester Hub facility and its warehouse are strategically located on more than 65 acres of land at the Eastman Business Park in Rochester, New York, to leverage existing infrastructure for power and transportation, as well as a talented local workforce. The Rochester Hub is expected to create approximately 270 new permanent jobs and more than 1,000 jobs during construction.
Li-Cycle continues to achieve development milestones at the Rochester Hub and is expected to initiate commissioning in late calendar 2023. During 2022, Li-Cycle received key environmental permits for the Rochester Hub, as well as advanced detailed engineering and construction with leading organizations including Hatch Ltd., a global engineering firm, and MasTec Inc., a North America-headquartered construction company.
Rochester Hub Video
Li-Cycle recently posted a new video regarding the progress at the Rochester Hub, available here.
Transaction Advisors
Centerview Partners is serving as financial advisor to Li-Cycle, and Freshfields Bruckhaus Deringer US LLP is serving as New York legal advisor to Li-Cycle.
About Li-Cycle Holdings Corp.
Li-Cycle (NYSE: LICY) is on a mission to leverage its innovative Spoke & Hub Technologies™ to provide a customer-centric, end-of-life solution for lithium-ion batteries, while creating a secondary supply of battery-grade materials. Lithium-ion rechargeable batteries are increasingly powering our world in automotive, energy storage, consumer electronics, and other industrial and household applications. The world needs improved technology and supply chain innovations to better manage battery manufacturing waste and end-of-life batteries, and to meet the rapidly growing demand for critical and scarce battery-grade raw materials through a closed-loop solution. For more information, visit https://li-cycle.com/.
Featured Product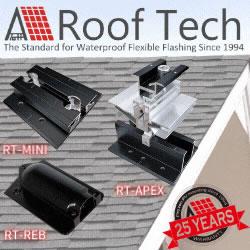 Now Roof Tech brings you the most innovative, watertight mounting systems ever developed for solar photovoltaic systems. Designed and manufactured exclusively for us by Japan's longtime leader in roofing technologies, Roof Tech products are 100% code-compliant and offer fast, simple installation and huge savings on shipping costs due to their compact, rail-less design. Learn more about our full line of versatile PV mounting solutions now available for residential installations. The next generation in rooftop solar mounting solutions."