The solar farm developed by AVANGRID delivers 150 Megawatts of clean electricity to Puget Sound Energy (PSE).
AVANGRID (NYSE: AGR), a leading sustainable energy company and member of the Iberdrola Group, has announced today that it has achieved commercial operation at its 150-Megawatt (MW) Lund Hill solar farm in Klickitat County, Washington, the state's largest photovoltaic plant. The facility will supply Puget Sound Energy's Green Direct program, which allows large commercial and governmental participants the ability to purchase 100 percent of their energy from dedicated, local renewable energy resources.

"It's exciting to see utility-scale renewable energy generation come online, and with our efforts this upcoming session, this should be the first of many clean energy projects that bring good-paying jobs and affordable, zero-emission energy to Washingtonians," said Governor Jay Inslee.
"Lund Hill represents a major milestone for us at AVANGRID and is proof of our commitment with accelerating the energy transition in the U.S.," said Pedro Azagra, AVANGRID's CEO. "We are pleased to work with Puget Sound Energy to help it meet its ambitious goals to reduce emissions and provide clean, reliable power to its customers."
"We're excited to see AVANGRID's Lund Hill project go into full operation as we start to receive clean energy from the largest solar project in Washington state," said Mary Kipp, PSE president and CEO. "This project will help our Green Direct customers meet their clean energy goals as we work together to create a cleaner energy future for all."
AVANGRID's facility will supply the solar for PSE's second round offering of their Green Direct program, for which more than 40 customers have already signed up, among them six Washington state government agencies, including the Departments of Health, Ecology, and Transportation (WSDOT), among others. The initiative allows participants the ability to purchase 100 percent of their energy from dedicated, local, renewable energy resources.
Lund Hill is located on approximately 1,800 acres, a mix of land leased from private landowners and the Washington Department of Natural Resources, the state's first solar power land lease.
By adding more renewables to PSE's portfolio, Green Direct also furthers PSE's deep decarbonization goals and move toward 100 percent clean energy by 2045, as called for in Washington's Clean Energy Transformation Act.
About AVANGRID: AVANGRID, Inc. (NYSE: AGR) aspires to be the leading sustainable energy company in the United States. Headquartered in Orange, CT with approximately $41 billion in assets and operations in 24 U.S. states, AVANGRID has two primary lines of business: networks and renewables. Through its networks business, AVANGRID owns and operates eight electric and natural gas utilities, serving more than 3.3 million customers in New York and New England. Through its renewables business, AVANGRID owns and operates a portfolio of renewable energy generation facilities across the United States. AVANGRID employs more than 7,500 people and has been recognized by JUST Capital in 2021, 2022 and 2023 as one of the JUST 100 companies - a ranking of America's best corporate citizens. In 2023, AVANGRID ranked first within the utility sector for its commitment to the environment. The company supports the U.N.'s Sustainable Development Goals and was named among the World's Most Ethical Companies in 2022 for the fourth consecutive year by the Ethisphere Institute. AVANGRID is a member of the group of companies controlled by Iberdrola, S.A. For more information, visit www.avangrid.com.
About Iberdrola: Iberdrola is one of the world's biggest energy companies and a leader in renewables, spearheading the energy transition to a low carbon economy. The group supplies energy to almost 100 million people in dozens of countries. With a focus on renewable energy, smart networks and smart solutions for customers, Iberdrola's main markets include Europe (Spain, the United Kingdom, Portugal, France, Germany, Italy and Greece), the United States, Brazil, Mexico and Australia. The company is also present in growth markets such as Japan, Taiwan, Ireland, Sweden and Poland, among others.
With a workforce of nearly 40,000 and assets in excess of €141.7 billion, across the world, Iberdrola helps to support 400,000 jobs across its supply chain, with annual procurement of €12.2 billion. A benchmark in the fight against climate change, Iberdrola has invested more than €130 billion over the past two decades to help build a sustainable energy model, based on sound environmental, social and governance (ESG) principles.
About Puget Sound Energy: Puget Sound Energy is proud to serve our neighbors and communities in 10 Washington counties. We're the state's largest utility, supporting approximately 1.2 million electric customers and 900,000 natural gas customers. We aspire to be a beyond net zero carbon energy company by 2045.
For more about us and what we do, visit pse.com. Also follow us on Facebook and Twitter.
Featured Product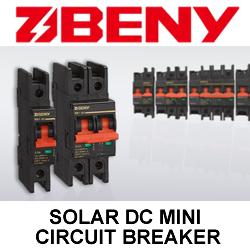 The BB1-63 modular miniature circuit-breakers can be used in solar DC circuits up to 1200 VDC (4-poles execution). Application in solar DC circuits, battery energy storage systems and UPS. Arc flash barrier design keeps solar equipment more safe and reliable. For DC circuit over-current protection.