The two companies reach an agreement permitting Solarwatt to continue selling and marketing solar products covered by the licensed patent EP '689.
[Berlin, Germany, March 16, 2023] Hanwha Solutions, a parent company of a complete clean energy solutions provider Qcells, and Solarwatt, a German solar and renewable energy company, today announced that they have signed a patent licensing agreement pertaining to the licensed patent, European Patent 2220689 (the "EP '689").

The license agreement relates to Q.ANTUM Technology, Qcells' proprietary solar-manufacturing technology developed in 2012 and embodied in the EP '689. The technology is based on Passivated Emitter and Rear Contact (PERC) technology, which improves the efficiency and performance of silicon-based solar cells.
Hanwha Qcells GmbH Managing Director Moon-Hwan Cha said: "Qcells has always strived to protect a fair and healthy competition for the best technology in the solar industry. This licensing agreement with Solarwatt ensures that customers across Europe can continue to have uninterrupted access to in-demand and transformative solar technology, against a backdrop of a fair and competitive R&D environment."
Solarwatt's managing Director Detlef Neuhaus is satisfied that Solarwatt and Hanwha Solutions have found a fair solution for all parties: "The agreement with Hanwha Solutions creates legal certainty not only for us, but also for our installation partners and our customers," he said.
About Qcells
Qcells is one of the world's leading clean energy companies, recognized for its established reputation as a manufacturer of high-performance, high-quality solar cells and modules, portfolio of intelligent storage systems, and growing international pipeline of large-scale renewable energy projects. Qcells also provides renewable electricity retail services and packages to end customers the world over. The company is headquartered in Seoul, South Korea (Global Executive HQ) and Thalheim, Germany (Technology & Innovation HQ) with its diverse international manufacturing facilities in the U.S., Malaysia, China, and South Korea. Qcells offers Completely Clean Energy through the full spectrum of photovoltaic products, storage solutions, renewable electricity contracting and large-scale solar power plants. Through its growing global business network spanning Europe, North America, Asia, South America, Africa and the Middle East, Qcells provides excellent services and long-term partnerships to its customers in the utility, commercial, governmental and residential markets. For more information, visit: http://www.q-cells.com.
Safe-Harbor Statement
This press release contains forward-looking statements. These forward-looking statements can be identified by terminology such as "will," "expects," "anticipates," "future," "intends," "plans," "believes," "estimates" and similar statements. Among other things, the quotations from management in this press release and Qcells' operations and business outlook, contain forward-looking statements. Such statements involve certain risks and uncertainties that could cause actual results to differ materially from those expressed in or suggested by the forward-looking statements. Except as required by law, Qcells does not undertake any obligation to update or revise any forward-looking statements, whether as a result of new information, future events or otherwise.
Featured Product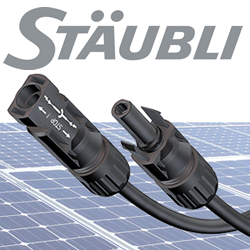 ​Stäubli Electrical Connectors are used on more than 300 GW, over 50% of the PV capacity worldwide. The MC4 family of UL and TUV listed products include connectors, in-line fuses, branch connectors, cable assembly and more.