Silicon Anode Batteries to Power Pursuit of World's Toughest Solar Car Race – 3,000 Kilometer Australian Transcontinental Challenge
Amprius Technologies, Inc. ("Amprius" or the "Company") (NYSE: AMPX), a leader in next-generation lithium-ion batteries with its Silicon Anode Platform, is supplying battery cells to the University of Michigan Solar Car Team. The University of Michigan Solar Car Team is slated to compete in the Bridgestone World Solar Challenge - the world's toughest and most prestigious solar car race, requiring teams to design, develop, and pilot a solar-powered vehicle along a 3,000-kilometer transcontinental Australian route from the northern city of Darwin to the southern city of Adelaide.

"Amprius was founded from Stanford University research, so supporting collegiate STEM programs is close to our heart. The University of Michigan's Solar Car Team brings a long history of excellence and is considered the most successful solar car racing team in the Western Hemisphere. We are honored they selected Amprius to power its vehicle for the world's most demanding endurance solar car race," said Dr. Kang Sun, Chief Executive Officer of Amprius. "Our industry-leading silicon anode batteries enable long run time while enduring wide temperature and pressure ranges - ideal for the arduous conditions the University of Michigan team will face Down Under."
The University of Michigan Solar Car Team is a student-run organization of over 150 undergraduates and postgraduates that builds, tests, and races highly competitive solar-powered electric vehicles on national and international competition circuits. For 2023, the University of Michigan Solar Car Team focused on incorporating novel manufacturing and assembly procedures to optimize performance. The team evaluated various battery options and ultimately selected Amprius cells over competitors based on their industry-leading high-power density and lightweight design. These features make the Amprius cells the best choice for achieving the team's efficiency goals.
"We are excited to work with Amprius as we have been following the technology for some time," said University of Michigan Solar Car Team Project Manager Will Jones. "Amprius' cells stood out compared to other batteries we tested and showed a superior level of performance giving us confidence they can withstand the challenging conditions experienced throughout the race. At the last Bridgestone World Solar Challenge in 2019, our team finished in third place. Our new partnership with Amprius is a part of our strategy to close that gap and elevate our performance to new heights."
The University of Michigan Solar Car Team has been a participant in the solar car race since 1990 with its first vehicle, the Sunrunner. This year marks the 13th time the University of Michigan Solar Car Team has built a car for the race. This year's car, dubbed Astrum, will be officially unveiled on July 14th, after which it will begin testing and prepare for a mock race around the state of Michigan before shipping to Australia in August.
For more information on Amprius, please visit the Company's investor relations website at https://ir.amprius.com.
About Amprius Technologies, Inc.
Amprius Technologies, Inc. is a leading manufacturer of high-energy and high-power lithium-ion batteries producing the industry's highest known energy density cells. The company's commercially available batteries deliver up to 450 Wh/kg and 1,150 Wh/L. The company's corporate headquarters is in Fremont, California where it maintains an R&D lab and a pilot manufacturing facility for the fabrication of silicon anodes and cells. To serve customer demand, Amprius recently entered into a lease agreement for an approximately 774,000 square foot facility in Brighton, Colorado. For additional information, please visit amprius.com. Also, see the company's LinkedIn and Twitter pages.
Featured Product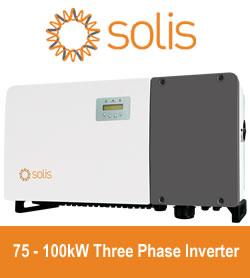 Solis75kW - 100kW series high-power string inverters are widely used in industrial and commercial rooftops. Solis's new three-phase string inverter is the first choice for industrial and commercial photovoltaics. 75-100kW three phase series string inverter have Maximum 28 strings input, support "Y" type connection in DC side. Maximum string input current 13A, support bifacial modules access.Supports anti-PID function to improve system efficiency.