Power Purchase Agreement (PPA) quoted through ETB Developer using Green Bridge Energy direct financing integration
Stuart, Florida - Energy Toolbase and Green Bridge Energy have partnered to provide Northeast-based commercial solar developer RISE with financing for a solar system to power a non-profit, private college. The developer tapped Green Bridge Energy's financing solution within the ETB Developer platform to provide an indicative Power Purchase Agreement (PPA) quote for the system that will finance its entirety.

The 257kW/319kWh solar system will be constructed on a non-profit, co-ed private college in Falmouth, Massachusetts, to support the facility in stabilizing electricity expenses and achieving environmental, social, and governance (ESG) goals. RISE utilized the direct financing integration within the platform to access Green Bridge Energy's PPA quoting and was selected as part of a competitive bid process for turnkey solar funded by a PPA.
The Green Bridge Energy financing integration is available to all ETB Developer platform users, allowing developers access to instantly generate PPA quotes for C&I and non-profit solar + storage projects without leaving the platform. This solution eliminates the need to go between multiple applications and speeds up modeling, optimizing a financing solution, and deploying projects. With over 35 years of combined experience in solar development, structured finance, and investment, Green Bridge is a top financier of C&I projects through PPAs and operating lease structures, focused on driving capital efficiency and scale to mid-market clean energy project financing.
With marketing-leading financing solutions, including PPAs and operating leases, Green Bridge assists commercial real estate owners in deploying clean energy and EV charging infrastructure to create new revenue streams, greener sites, and energy cost savings at $0 upfront cost. Green Bridge has expanded access to resilient clean energy and high availability of EV charging to reduce global carbon emissions while delivering access to tax benefits and creating attractive economic returns for project investors.
"Working with Green Bridge to provide financing quotes within ETB Developer has been a game-changer for our users getting projects sold faster," said Matt Cimo, Manager of the Developer Channel at Energy Toolbase. "With access to financing quotes for solar projects with just a few clicks and never having to leave the platform, it has empowered our users, like RISE Engineering, to secure the funding needed for projects."
"The Green Bridge financing partnership with ETB is equipping developers with the certainty of execution, greater operational efficiency, and more attractive financing to win more business in the market," said Byrne Huddleston, CEO of Green Bridge. "We are excited to continue expanding the available financing products available through the ETB platform in 2023 to include EV charging financing into PPA and Lease structures."
About Energy Toolbase
Energy Toolbase is an industry-leading software platform that provides a cohesive suite of project estimating, storage control, and asset monitoring products that enable solar and storage developers to deploy projects more efficiently. Energy Toolbase's SaaS products are used by over 1,000 distributed energy organizations worldwide. To learn more or request a free trial, visit: https://www.energytoolbase.com.
Energy Toolbase is backed by its parent company, Pason Systems, a leading global provider of data management systems and controls automation software for the energy industry. With a global footprint and 40-year track record, Pason enjoys one of the strongest balance sheets in the industry and trades on the Toronto Stock Exchange under the symbol PSI. For more information visit: https://www.pason.com.
About Green Bridge Energy
Green Bridge is an investment and technology platform that brings together best-in-class funding and optimization solutions for clean energy projects in the commercial and industrial market segment. Founded by former General Electric executives with over 35 years of clean energy infrastructure finance and development experience, Green Bridge operates a platform for clean energy project prioritization, investment, development, management, and operations with the goal of driving organization, scale, and democratization of clean energy infrastructure across the US. We align long-term clean infrastructure business models into the project development and funding to drive maximum value and confidence to developers, end-users, and the investor community. Learn more: https://www.greenbridge.energy/
Featured Product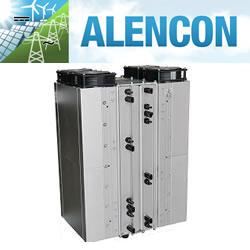 Alencon Systems is the premier manufacturer of high power, high voltage DC:DC optimizers for alternative energy applications including solar, battery energy storage, Microgrids, Fuel Cells and Electric Vehicle charging. Alencon's DC:DC converter offerings include the SPOT, BOSS and CUBE series DC:DC converters. The SPOT is a modular, uni-directional DC:DC solution ideal for solar applications. The BOSS is a modular, bi-directional unit for use with battery energy storage. The CUBE is a monolithic DC:DC converter which is available in both uni-directional and bi-directional modalities. Pictured above, is the Alencon SPOT.