LIACON, a half gigafactory-sized battery manufacturing plant in Europe, has released a new 12V lithium-iron-phosphate battery that can last 10 to 20 times longer than traditional lead-acid batteries. It can replace all Group 31 lead acid batteries currently on the market, and comes with a 4000+ life cycle. The new LFP battery contains no expensive heavy metals like cobalt or nickel, and no lead, which is toxic to the environment.
LIACON releases new 12V lithium-iron-phosphate battery with a 4000+ life cycle

June 23, 2023 (Itzehoe, Germany/Calgary, AB/Chattanooga, TN) - LIACON, one of Europe's largest battery manufacturers, has released a new, more versatile lithium-iron-phosphate (LFP) battery that can replace all Group 31 lead acid units.
"Group 31 batteries are one of the highest selling in the market. Delivery fleets, marine vessels, recreational vehicles, renewable energy storage, and construction equipment all use this standard," explains Philip M. Meek, CEO of LIACON.
"Lead acid batteries typically get 200-400 cycles before they fail. In comparison our lithium-iron-phosphate (LFP) batteries have ten times the life, cycling over 4,000 times."
The new Group 31 LFP 12.8V 150 Ah battery has two to three times the energy of a lead-acid battery, and 1,000 cranking amps for starting heavy duty diesel engines, making it the most versatile solution where energy and power are needed.
And unlike traditional lithium-ion batteries with oxide based chemistries, LIACON'S does not contain expensive and rare heavy metals, like cobalt and nickel, nor does it contain lead, which is toxic to the environment.
"It makes them a sustainable battery choice for end-users," adds Meek. "The LFP chemistry is also more stable, and safer, when compared to lithium-ion batteries with oxide based chemistries."
LIACON'S LFP battery is designed to be a drop-in replacement, meaning there's no need to change existing charging systems. The energy storage capacity is also superior to typical lead acid units, and its stable discharge curve mitigates damage to sensitive electronics.
"Another advantage of the LIACON LFP battery is that the voltage during discharge is very stable and does not drop during discharging. Whereas lead acid's voltage during discharge will rapidly drop. This varying voltage can be damaging to the sensitive electronics." explains Meek.
"Our LFP battery means companies get a high performance, safer battery that greatly reduces battery and electronics replacements, lowering the total cost of ownership over the lifetime of the application compared to lead-acid batteries," adds Meek.
"LIACON'S been developing its LFP batteries since before TRION acquired the company," says Timothy Mayne, CEO of TRION Battery Technologies, which owns LIACON. "We anticipate further disrupting the battery industry with TRION's advanced materials that will result in superior cells, batteries, and systems to meet the world's need for better energy."
About LIACON:
Founded in 2014 in Germany, LIACON operates one of the largest lithium-ion battery factories in Europe with cell assembly lines designed by world-leading automation companies. With in-house capabilities to assemble cells into battery packs for end-use, LIACON is an industry leader in vertically integrated battery development and production. For more information about LIACON's LFP batteries and their innovative solutions, please visit www.liacon.com
About TRION Battery Technologies:
TRION Battery Technologies Inc. is an emerging global leader in next-generation silicon solutions and commercial battery production headquartered in Calgary, Canada. Its materials branch, TRION Battery Solutions, is located in Chattanooga, TN. TRION completed the strategic acquisition of LIACON in July 2022, making it the only early-stage battery materials company with large-scale battery production capabilities as well as next-generation proprietary battery technology. For more information, visit https://Trionbattery.com/
Featured Product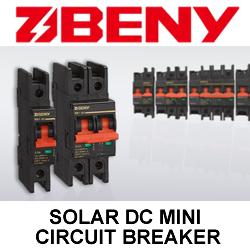 The BB1-63 modular miniature circuit-breakers can be used in solar DC circuits up to 1200 VDC (4-poles execution). Application in solar DC circuits, battery energy storage systems and UPS. Arc flash barrier design keeps solar equipment more safe and reliable. For DC circuit over-current protection.