Leading the way among SAJ products at the show was the H2+B2 US version residential energy storage system, tailored specifically for the North American market.
Smart energy storage solutions provider SAJ participated in the RE+ SOLAR POWER INTERNATIONAL 2023. The exhibition took place from September 12 to 14, 2023, in Las Vegas., SAJ showcased its all-scenario smart energy storage solutions with the theme of revolutionize energy storage solutions.

Leading the way among SAJ products at the show was the H2+B2 US version residential energy storage system, tailored specifically for the North American market. This safe, reliable, and easy-to-install system includes the H2 US series inverter and B2 US battery which is expandable to 40 kWh and uses LiFePO4 technology for safety and reliability. It is compatible with high-power solar panels, offers 1.5 times off-grid overload capacity, 50A charging/discharging current, and seamless transitions between grid-tied and off-grid states. Suitable for wall or ground placement, it fulfills outdoor design standard.
Also on display was SAJ's CH2 commercial and industrial inverter, which provides multi-MPPT support. It can meet the high-capacity ratio design needs of customers, improving power generation efficiency, and increasing revenue. Moreover, it comes with more flexibility in expanding capacity.
The SAJ Portable Power Station S36 is the ideal mobile power solution for outdoor adventures, power outages, and DIY projects. With a rapid 80% charging capability within an hour, it empowers the daily household appliances, alleviating power concerns. Engineered to US standards, its dual voltage AC output and intelligent temperature sensor guarantee peak performance during winter fishing, even at -20℃.
Moreover, SAJ showcased its eSAJ smart energy management platform, designed to aid digital transformation in energy storage across residential, commercial & industrial, portable, utility-scale power stations and more. With SAJ's advanced technologies, the platform helps distributors, installers, and homeowners to achieve smarter and more profitable energy management.
About SAJ
With 18 years of dedication and professionalism, SAJ has established itself as a pioneer in the renewable energy industry. SAJ is committed to providing reliable products and services in Residential & Commercial Smart Energy Solutions, Portable Power Stations, and Industrial Automation sectors. Its holistic product portfolio accompanies consumers on the full journey of energy storage, consumption, and management. SAJ's products are welcomed in over 80 countries and regions, helping the customers worldwide realize energy self-sufficient and sustainable living.
Featured Product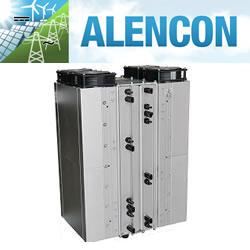 Alencon Systems is the premier manufacturer of high power, high voltage DC:DC optimizers for alternative energy applications including solar, battery energy storage, Microgrids, Fuel Cells and Electric Vehicle charging. Alencon's DC:DC converter offerings include the SPOT, BOSS and CUBE series DC:DC converters. The SPOT is a modular, uni-directional DC:DC solution ideal for solar applications. The BOSS is a modular, bi-directional unit for use with battery energy storage. The CUBE is a monolithic DC:DC converter which is available in both uni-directional and bi-directional modalities. Pictured above, is the Alencon SPOT.