New funding from the U.S. Department of Energy and the California Energy Commission helps advance Smartville's innovative approach to battery restoration and reuse efforts
Smartville, an EV battery-repurposing innovator, has received an additional $2.65 million in federal and state funding to support the innovation and growth of electric vehicle battery repurposing solutions that bolster lithium battery circularity. A $1.15 million grant from the U.S. Department of Energy's Solar Energy Technology Office (SETO) will be used to develop a complete battery energy storage system (BESS) with key power electronics and system integration innovations that make use of second-life EV batteries to charge them with solar generation as a power input. The company was also awarded an additional $1.5 million from the California Energy Commission as part of a state match to the DOE's $5.9 million federal grant announced earlier this spring in support of its large-scale Smartville 360™ second-life BESS product.

The DOE awards companies that are "working to advance the affordability, reliability and performance of solar technologies onto the grid." Smartville is doing that by using solar energy stored in second-life EV batteries to charge first-life EV batteries. Through this grant, Smartville will further advance technologies and processes that support EV battery reuse efforts across the country and also accelerate the commercialization of Smartville 360.
"Reusing EV batteries to store power, recharge new EVs and tap into the bountiful West Coast sunshine are all viable and affordable solutions at our fingertips today," said Antoni Tong, Smartville's CEO. "The Smartville 360 sustainably powers communities, lessens our dependence on external energy sources and will help keep the lights on during energy emergencies."
The latest round of DOE funding supports Phase II of its Small Business Innovation Research (SBIR) program that encourages U.S.-based businesses to "engage in high-risk, innovative research and technology development with the potential for future commercialization."
No Shortage of Reusable EV Batteries
According to the Internal Energy Agency (IEA), global EV sales surpassed 10 million in 2022, with sales expected to rise dramatically over the next several years. That means the number of second-life EV batteries will also continue to grow, turning waste management challenges into sustainable energy opportunities. Batteries retired from EVs retain most of their storage capacity, making them ideal candidates for stationary storage and reuse before being recycled. Smartville's suite of proprietary software, hardware and diagnostics provides guaranteed performance from repurposed EV batteries for stationary storage serving both enterprise and utility customers.
About Smartville Inc.
Smartville's mission is to be the world's most sustainable, scalable and reliable EV battery repurposing company and to revolutionize battery energy storage on a global scale, one battery pack at a time. Smartville has multiple projects in the pipeline, with customers including tier-1 utility companies, automakers and the U.S. Department of Energy for its Smartville 360™ battery energy storage solution. For more information about Smartville, please visit www.smartville.io or follow the company on LinkedIn.
Featured Product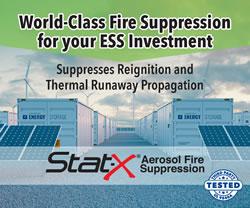 Stat-X® condensed aerosol fire suppression is a solution for energy storage systems (ESS) and battery energy storage systems (BESS) applications. Our Stat-X condensed aerosol fire extinguishing product was tested for efficacy in suppressing li-ion battery fires. It was found that the product successfully extinguished single and double cell battery fires. This testing was conducted in parallel with a large battery fire testing program on behalf of a large energy storage company.