Since 2021, a high-performance energy storage system from ADS-TEC Energy has been operating at the energy provider Rhiienergie AG in Graubünden, Switzerland
For over a decade, ADS-TEC Energy (NASDAQ: ADSE), a global leader in battery-buffered platform solutions, has delivered large-scale battery energy storage plants in the megawatt range with the flexibility required for energy transition. As a system provider with in-house developed battery technology, including battery management and control, the company has a long history in large-scale storage solutions. Battery power plants that were installed over 10 years ago are still in operation today and have proven to be high-performing, highly reliable, and significantly more long-lasting than originally anticipated.

Since March 26, 2021, a large-scale energy storage system with a capacity of 1.25 megawatts and 1.3 megawatt-hours has been operational for Rhiienergie AG in Graubünden, Switzerland. The 7.5-meter-long container is located directly in front of the Vial substation in Domat/Ems. Rhiienergie is considered a pioneer in the field of decentralized energy future and smart grid. In June 2023, it once again won the coveted Energiewende Award EWS. Its investment in the ADS-TEC Energy large battery has more than paid off and, based on other customer experiences, is likely to continue operating for many more years.
Through close collaboration between Rhiienergie and ADS-TEC Energy, the facility was integrated into Rhiienergie's automated management systems and passed operational tests right from the outset. It provides grid ancillary services to the national grid provider, Swissgrid, and stabilizes local grids. When required, it manages load peaks, relieving the grid and resulting in more efficient utilization. This also delivers savings in grid usage costs, which Rhiienergie passes on to its customers. Additional revenue is generated through system services.
Christian Capaul, Managing Director of Rhiienergie AG: "The battery performance is excellent. The system operates reliably and plays an increasingly important role as the share of renewables grows steadily. ADS-TEC Energy has proven to be a dependable partner, and as a result, we are planning to work with them to expand our storage capacity on a significantly larger scale."
Thomas Speidel, CEO of ADS-TEC Energy: "We are delighted to receive such positive feedback from our customer, it is a valuable validation for us. With our "Everything from a single source" and "Made in Germany" strategy, our systems maintain our operational capability over an extended period of time as we commit to being a reliable partner for the future."
ADS-TEC Energy possesses an exceptional level of in-house development, enabling operational support at all levels. This enhances long-term system availability and provides customers with greater future security. Digital twins are created for the entire system down to the cell level and each storage unit is monitored by ADS-TEC Energy through a secure connection to detect critical system conditions in a timely manner. This ensures reliable system operation throughout its entire lifecycle.
About ADS-TEC Energy
ADS-TEC Energy plc, a public limited company incorporated in Ireland and publicly listed on NASDAQ ("ADS-TEC Energy"), serves as a holding company for ads-tec Energy GmbH, our operating company incorporated in Germany ("ADSE GM") and ads-tec Energy Inc., a US subsidiary of ads-tec Energy GmbH ("ADSE US" and together with ADS-TEC Energy and ADSE GM, "ADSE"). Based on more than ten years of experience with lithium-ion technologies, ADS-TEC Energy develops and manufactures battery storage solutions and fast charging systems including their energy management systems. Its battery-based, fast charging technology enables electric vehicles to ultrafast charge even on low powered grids and features a very compact design. It was most recently nominated by the President of the Federal Republic of Germany for the German Future Prize and elevated to the "Circle of Excellence" in 2022. The high quality and functionality of the battery systems are due to a particularly high depth of development and in-house production. With its advanced system platforms, ADS-TEC Energy is a valuable partner for automotive, OEMs, utility companies and charge-operators.
More information: https://www.ads-tec-energy.com/en/
Featured Product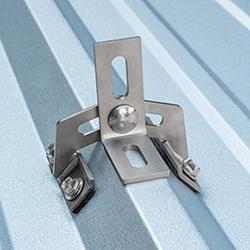 Explore new lines of income for your solar installation business with QuickBOLT's Stone Coated Steel roof mounts designed in partnership with metal roof manufacturers themselves. These SCS roof mounts work on all metal tile profiles and will help you bring in money you're missing out on. By not driving into the roofing material, QuickBOLT's Stone Coated Steel roof hooks maintain the integrity of the roof. Install with ease and confidence knowing your roof is protected against the harsh elements that these hooks are designed for.