Partnership will provide fuel cell + carbon capture technology to C&I users with zero upfront capital; CarbonQuest will sell "Sustainable CO2™" to off-takers spurring growth of the local carbon economy
NEW YORK--(BUSINESS WIRE)--CarbonQuest, a leading carbon capture technology provider supporting the onsite decarbonization of buildings, campus settings and other facilities, and Daroga Power, a leading ​​sustainable infrastructure and distributed generation developer, today announced a partnership to bring a low-carbon fuel cell solution to the commercial and industrial ("C&I") sectors in the U.S. and Canada.

Under the terms of the partnership, Daroga Power will develop, install and operate fuel cells that can power industrial facilities, buildings, and campus settings without interruptions and without the need for batteries. CarbonQuest's Distributed Carbon Capture™ system will be used in conjunction with the fuel cells to capture the systems' generated carbon before it is emitted to the atmosphere. CarbonQuest will also sell the captured carbon to industrial users.
To hasten adoption, the partnership is providing clients with financing for the upfront capital necessary to purchase the systems. Daroga and CarbonQuest will also provide long-term maintenance support for the fuel cells and carbon capture components.
Given the power capacity limitations of the New York regional grid, along with delayed renewable interconnection, a fuel cell + carbon capture solution offers both short- and long-term benefits to many types of energy users with on-site, base-load power that is also low carbon.
CarbonQuest and Daroga aim to sign on approximately 20 projects in the next 12 months, which will generate an anticipated 100,000 metric tons per year of recycled, liquified Sustainable CO2.
After being captured by CarbonQuest's system, the liquid CO2 will be sold to various off-takers across the Northeastern U.S. Given the severe constraint of CO2 supply in the region, CarbonQuest's Sustainable CO2™ offers a unique solution for CO2 users while also supporting the growth of new carbon-based industries.
"This partnership will prove that smaller scale carbon capture can effectively reduce emissions, while maintaining resilience in many universities, corporate campus settings and other commercial buildings," said Shane Johnson, CEO of CarbonQuest. "Our modular systems were first deployed to support decarbonization of gas-powered boilers, but they work equally well in fuel cells and combined heat and power systems. These latter categories are particularly challenging to decarbonize, and we are proud of the role CarbonQuest is playing in reducing the carbon footprint for these critical building systems."
"This enhanced Fuel Cell + Carbon Capture offering serves as the ideal transitional solution for customers facing both growing energy demand and grid shortages," said Ory Moussaieff, Co-Founder of Daroga Power. "The upfront cost of many carbon reduction technologies is a major barrier for our customers looking to decarbonize. By partnering with CarbonQuest and offering their product without any upfront capital expenditures, we're helping the C&I sectors take immediate action towards lowering its carbon footprint in a financially viable manner."
About CarbonQuest
CarbonQuest is advancing building decarbonization with a modular, accessible solution that captures CO2 from buildings before it is emitted to the atmosphere. The captured CO2 is then liquified and transported to local businesses that need carbon for their production processes, such as cement manufacturers. By introducing its technology and Sustainable CO2™ into the market, CarbonQuest enables its customers to support a circular economy while meeting ESG and net-zero goals with a cost-effective, turnkey solution. Learn more at www.carbonquest.com.
About Daroga Power
Launched in 2015, Daroga Power is a New York-based clean energy infrastructure firm focused on the development and disciplined management of strategically innovative and socially responsible energy projects throughout North America. Applying the discipline of both a strong financial and fast-track development background, Daroga Power is one of the few companies able to privately structure finance deals to acquire and manage distributed generation portfolios. With their successful track record and deep background, Daroga Power is rapidly becoming a leader in the shift to distributed generation that is reshaping the relationship between local utilities and their customers. Learn more at www.darogapower.com.
To inquire about a potential project or recycled, Sustainable CO2™ utilization, please contact David@Darogapower.com for Daroga Power and info@carbonquest.com for CarbonQuest
Contacts
Media
David Matt
David@DarogaPower.com
Ariel Marantz
Antenna Group for CarbonQuest
CarbonQuest@antennagroup.com
Featured Product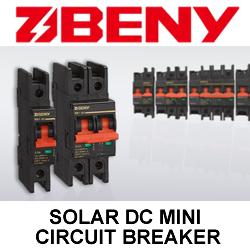 The BB1-63 modular miniature circuit-breakers can be used in solar DC circuits up to 1200 VDC (4-poles execution). Application in solar DC circuits, battery energy storage systems and UPS. Arc flash barrier design keeps solar equipment more safe and reliable. For DC circuit over-current protection.