A better way of converting coffee waste to biofuel?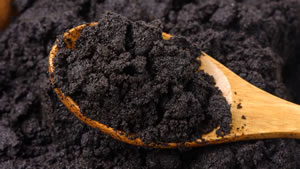 Ben Coxworth for New Atlas: Used coffee grounds can already be turned into things such as water filters, road material, carbon-capture media, and biofuel. Unfortunately in the case of the latter, it's a fairly complex affair, making its widespread use unlikely. That could be about to change, however, as scientists from Britain's Lancaster University have simplified the coffee-grounds-to-biofuel conversion process.
First of all, the vast majority of used coffee grounds are still just thrown away.
Of those that are converted into biofuel, though, the process typically starts with the grounds being mixed with hexane and then heated to 60 ºC (140 ºF) for one to two hours, to extract oils from them. Next, the hexane is evaporated, leaving the oils behind. Methanol and a catalyst are then added to create biodiesel, although glycerol is also created as a by-product. In a final step, it must be separated from the biodiesel. Full Article:

Comments (0)
This post does not have any comments. Be the first to leave a comment below.
---
Post A Comment
You must be logged in before you can post a comment. Login now.
Featured Product
What if you could maximize the Ground Coverage Ratio (GCR) on your next project and not have to worry about the complicated variables that come with a tracker system? With a low tilt and clearance design, Dahlia® has the highest GCR of any fixed-tilt system in the marketplace. The system is available in three tilt options (7.5, 10 and 12.5 degrees) and designed to accommodate any sized PV module. The lightweight system is engineered with fewer components, several of which are shipped to job sites pre-assembled. This design feature reduces freight costs and rapidly trims the amount of on-site installation time required to complete construction. Maximizing PV coverage on a site can lead to an increase of production, which creates greater financial return for project owners. Over 100 MW of Dahlia® projects have been deployed across the United States, in regions of variable snow and wind loads. How much can Dahlia® cover and save you on your next project?