World's first floating wind farm emerges off coast of Scotland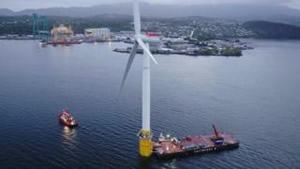 Roger Harrabin BBC environment analyst, Norway: The world's first full-scale floating wind farm has started to take shape off the north-east coast of Scotland.
The revolutionary technology will allow wind power to be harvested in waters too deep for the current conventional bottom-standing turbines.
The Peterhead wind farm, known as Hywind, is a trial which will bring power to 20,000 homes.
Manufacturer Statoil says output from the turbines is expected to equal or surpass generation from current ones.
It hopes to cash in on a boom in the technology, especially in Japan and the west coast of the US, where waters are deep.
"This is a tech development project to ensure it's working in open sea conditions. It's a game-changer for floating wind power and we are sure it will help bring costs down," said Leif Delp, project director for Hywind. Full Article:
Comments (0)
This post does not have any comments. Be the first to leave a comment below.
---
Post A Comment
You must be logged in before you can post a comment. Login now.
Featured Product
With Baja Carports 35 plus years in the industry installing our Solar Support Systems nationwide and whose founder Bob Hayworth was one of the first to use solar panels as the rooftops on commercial carports ~ is assurance that you will receive Baja expertise in all phases of installation. Our team's diligence makes the design-build process easy for customers. You don't need a set of architecture plans to begin talking to us about your project. Baja's in-house design engineers will work closely with you to meet your project specifications and city's criteria. You'll have our design team's years of experience applied to your plans. Our engineers will deliver a set of stamped plans, which maximize canopy coverage and details the most-effective layout for your business' parking lot.