Boosting Tidal Power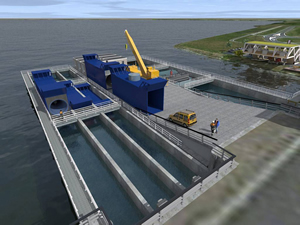 NauticExpo: The VAWT will be installed at the country's new Tidal Technology Center Grevelingen, due for completion in late 2017/early 2018. Water2Energy (W2E) has signed a technical development partnership with Dutch electrical system integrator Bakker Sliedrecht to further develop and deliver such turbines.
The position of the turbine blades is continuously modified such that they always receive the full force of streaming water. The resulting efficiency is enhanced by Bakker Sliedrecht's design for the conversion of mechanical to electrical energy via a special set of gearboxes and generators. The company also created a smart system that delivers the electrical power to the grid.
"W2E concluded that a better, tailor-made energy conversion system would be required to have the turbine running at the best efficiency point," a Bakker Sliedrecht spokesman explained to NauticExpo e-magazine.
An Automatic Control System
"The control system will be fully automatic and keep the load off the turbine at a maximum during the ever-changing tidal current flow. Even in the case of potential overloads due to extreme tidal differences, the system will be able to control the turbine and protect it."
W2E general manager Reinier Rijke said, "With the Bakker Sliedrecht partnership, the conversion ratio from mechanical energy to electrical energy has improved significantly. This makes tidal energy an even more attractive type of sustainable energy." Full Article:
Comments (0)
This post does not have any comments. Be the first to leave a comment below.
---
Post A Comment
You must be logged in before you can post a comment. Login now.
Featured Product
Sonnen's mission is to provide clean and affordable energy for all. As the first mainstream grid tied residential energy storage company in the world and with 24,000 sonnenBatterie systems installed worldwide, sonnen is a proven global leader in intelligent energy management solutions. The all-in-one sonnenBatterie smart energy storage solution easily integrates with new and existing solar installations to help homes manage their energy throughout the day-saving money, providing backup power, and maximizing the effective use of solar power day and night. Sonnen has won several awards for its energy innovations, including the 2017 Zayed Future Energy Prize, MIT's Technology Review's 50 Smartest Companies in 2016, Global Cleantech 100 for 2015-2017, Greentech Media's 2016 Grid Edge Award for Innovation, and Cleantech's 2015 Company of the Year Award in both Israel and Europe.