Pumped hydro storage 'could make Australia run on renewable energy alone within 20 years'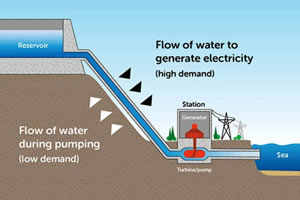 Stephen Smiley and Caroline Winter for ABC AU: Australia has the capacity to store up to 1,000 times more renewable energy than it could ever conceivably need, according to an analysis by researchers at the Australian National University (ANU).
ANU engineering professor Andrew Blakers has conducted a study looking into pumped hydro sites and has concluded that there are at least 22,000 suitable locations nationwide.
Professor Blakers said if storage was built at just a tiny fraction of those places, Australia could transition to 100 per cent renewable power within two decades.
"No matter where you are in Australia, you will find a good pumped hydro site not very far away from where you, or your wind or your solar farm is located," he said. Full Article:
Comments (0)
This post does not have any comments. Be the first to leave a comment below.
---
Post A Comment
You must be logged in before you can post a comment. Login now.
Featured Product
With Baja Carports 35 plus years in the industry installing our Solar Support Systems nationwide and whose founder Bob Hayworth was one of the first to use solar panels as the rooftops on commercial carports ~ is assurance that you will receive Baja expertise in all phases of installation. Our team's diligence makes the design-build process easy for customers. You don't need a set of architecture plans to begin talking to us about your project. Baja's in-house design engineers will work closely with you to meet your project specifications and city's criteria. You'll have our design team's years of experience applied to your plans. Our engineers will deliver a set of stamped plans, which maximize canopy coverage and details the most-effective layout for your business' parking lot.