Globally unique electrified road enables fossil-free road transport
Today marked the inauguration of eRoadArlanda, a Swedish innovation and the first road of its kind to allow both commercial and passenger vehicles to be recharged while driving. The solution, which is both sustainable and cost-effective, will allow existing public roads to be electrified and help to create a future of fossil-free road transport.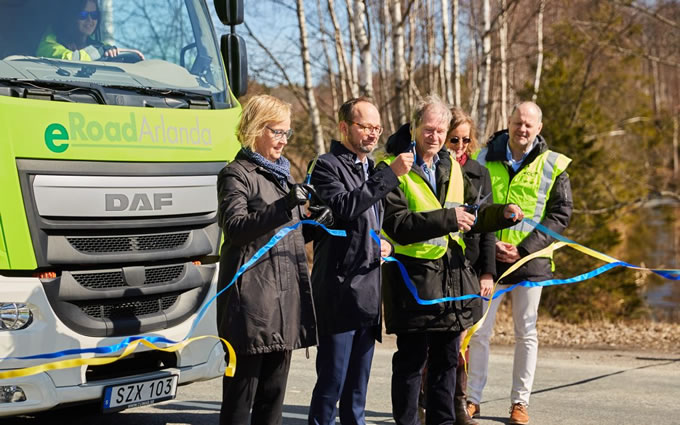 "One of the most important issues of our time is the question of how to make fossil-free road transportation a reality. We now have a solution that will make this possible, which is amazing. Sweden is at the cutting edge of this technology, which we now hope to introduce in other areas of the country and the world," says Hans Säll, Chairman of the eRoadArlanda consortium and Business Development Director at NCC.
Tomas Eneroth, Swedish Minister for Infrastructure, and Lena Erixon, Director General of the Swedish Transport Administration, were on hand at the formal inauguration ceremony for the road.
"It is important to break new ground when it comes to climate-smart road transport. That's why the Swedish Transport Administration supports innovative development projects that contribute to long-term, sustainable solutions," says Lena Erixon, Director General of the Swedish Transport Administration.
Approximately two kilometers of electric rail have been installed along public road 893, between the Arlanda Cargo Terminal and the Rosersberg logistics area outside Stockholm. The electrified road works by transferring energy to the vehicle from a rail in the road through a movable arm. The arm detects the location of the rail in the road and as long as the vehicle is above the rail, the contact will be in a lowered position. The electrified road will be used by electric trucks developed as part of the project.
About eRoadArlanda
The eRoadArlanda project is working to make electrified roads of the future a reality and is part of the Swedish Transport Administration's pre-commercial procurement of innovation. The solution is based on conductive technology that uses an electric rail installed in roads to power and recharge vehicles during their journey. The project is being managed by a consortium comprising the following members: Elways, NCC, PostNord, ABT-bolagen, Vattenfall, DAF, KTH, Kilenkrysset, VTI, E-traction, GCT, KTH, Bilprovningen, Airport City Stockholm, Sigtuna Municipality, Swedavia, Arlanda Stad Holding, TraningPartner, FirstHotel, Frost Produktion, SMM Dulevo and Sandströms Elfirma.
Comments (0)
This post does not have any comments. Be the first to leave a comment below.
---
Post A Comment
You must be logged in before you can post a comment. Login now.
Featured Product
With Baja Carports 35 plus years in the industry installing our Solar Support Systems nationwide and whose founder Bob Hayworth was one of the first to use solar panels as the rooftops on commercial carports ~ is assurance that you will receive Baja expertise in all phases of installation. Our team's diligence makes the design-build process easy for customers. You don't need a set of architecture plans to begin talking to us about your project. Baja's in-house design engineers will work closely with you to meet your project specifications and city's criteria. You'll have our design team's years of experience applied to your plans. Our engineers will deliver a set of stamped plans, which maximize canopy coverage and details the most-effective layout for your business' parking lot.