Explore a virtual world of Q CELLS products and services with new digital platform, Q CELLS SMART CITY
Explore this virtual Q CELLS-themed world to discover a wealth of products and services.
Q CELLS, a renowned total energy solutions provider in solar, energy storage, downstream project business and energy retail, this week launches its new virtual online marketing platform, Q CELLS SMART CITY (www.qcells-smartcity.com).
This expansive virtual world invites Q CELLS customers and Q.PARTNERs on a journey of discovery where they can learn about the company's latest products and services, engage with virtual online exhibitions, and tour a beautifully-rendered solar cityscape.
The imposing virtual convention center is the centerpiece of the Q CELLS SMART CITY. It is in this space that guests can digitally engage with a full portfolio of Q CELLS' solar modules for North America markets such as the United States, including soon-to-be-launched zero-gap module series, the Q.PEAK DUO-G9 Series. During the forthcoming Solar Power International (SPI) virtual exhibition – of which Q CELLS is an exhibitor – the Q CELLS SMART CITY convention center will play host to a stylish virtual booth, showcasing a full suite of solar modules, energy storage solutions, EPC and project development capabilities, and so much more. The convention center will also be adapted in the future to exhibit the portfolios for various Q CELLS markets, including Europe, Australia and Japan, throughout the solar calendar.
Let's go outside
When touring Q CELLS SMART CITY, guests can also choose to visit the towering Q CELLS HQ, a gleaming skyscraper where visitors can learn about the company's history, ethos and vision.
The creation of the Q CELLS SMART CITY complements the company's journey of transition into becoming a total energy solutions provider. Q CELLS' entire business scope increasingly caters for a wider audience, and the SMART CITY offers visitors an opportunity to discover in great detail the additional business divisions that Q CELLS has created and nurtured over the past few years.
By developing and designing a virtual world of Q CELLS' offerings in the time of COVID-19, the company is once more proactively expanding its services to ensure that it never fails to meet the needs of its global customers.
Q CELLS CEO, Mr. Hee Cheul (Charles) Kim, said: "Q CELLS SMART CITY will be a milestone for Q CELLS to provide market stakeholders with a greater understanding of solar energy solutions. I believe this platform, which boasts Q CELLS innovations, products and services throughout its entire virtual landscape, will help to provide engaging digital experiences to our customers online – whether on the go or from their home or office. Q CELLS SMART CITY adds to the company's ever-growing range of innovative solutions towards making the world a cleaner, greener place."
About Q CELLS
Q CELLS is one of the world's largest and most recognized photovoltaic manufacturers for its high-performance, high-quality solar cells and modules. It is headquartered in Seoul, South Korea (Global Executive HQ) and Thalheim, Germany (Technology & Innovation HQ) with diverse international manufacturing facilities in the U.S., South Korea, Malaysia, and China. Q CELLS offers the full spectrum of photovoltaic products, applications and solutions, from cells and modules to kits to systems to large-scale solar power plants. Through its growing global business network spanning Europe, North America, Asia, South America, Africa and the Middle East, Q CELLS provides excellent services and long-term partnerships to its customers in the utility, commercial, governmental and residential markets. For more information, visit: http://www.q-cells.com.
Comments (0)
This post does not have any comments. Be the first to leave a comment below.
---
Post A Comment
You must be logged in before you can post a comment. Login now.
Featured Product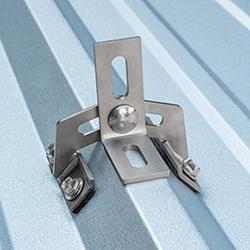 They have been changing the game for 10 years with their original Top Mount line for Asphalt Shingle roofs, and by now supplying one of the widest ranges of solar mounts in North America. From their patented products, to the custom production services they offer, QuickBOLT has been working with solar installers for nearly a decade to make solar installations easier than ever before.