How batteries and solar are keeping major events sustainable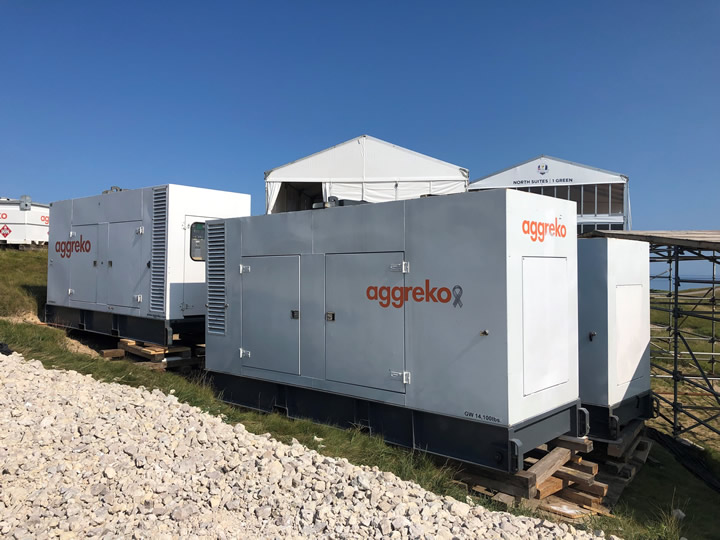 Planning or organizing in-person industry events today, such as trade shows or conferences, can be a difficult task, especially with the ongoing COVID-19 pandemic. Health and safety is always top of mind for event organizers, now more than ever. But there's another concern that's rapidly rising in importance: the health and safety of our planet. Sustainable practices and operational decarbonization are rapidly gaining traction as high priorities across the events industry.
According to a report by the Natural Marketing Institute, over half of U.S. consumers consider a company's impact on the environment when making purchase decisions and are more likely to do business with those that follow sustainable practices. As more and more companies follow this trend and are transparent about it, event organizers need to consider and ask themselves, "How can I make my event more sustainable or eco-friendly?" to better align with the values of their attendees, exhibitors, stakeholders, and the media.
There are many ways to approach the challenge of greening an event, from catering only sustainable food to using digitized business cards. One of the most effective ways to dramatically reduce an event's carbon footprint is to look at how it is powered. Thanks to readily available portable systems, there are a range of power solutions that can make major events more sustainable. The two that we'll explore in this article are battery storage and solar panels; exploring how both can make events greener and the multiple benefits that they offer.
The quiet power of batteries
The purpose of battery storage is to save energy for later use - when and where it is most needed.
Large-scale portable batteries can be paired with any kind of mobile generator (whether solar, HVO-fueled, natural gas, or traditional diesel) to provide additional reliability and reduce generator runtime. By storing energy and relying less on generators, batteries can reduce the greenhouse gas emissions and carbon footprint of any event.
Batteries themselves are silent and emissions-free, which makes them great options for performing arts events or other occasions that call for quiet: think ceremonies, golf tournaments, concerts, or meditation retreats. Batteries also cut down significantly on fuel costs, and thus can make any event's energy system more efficient, reliable, (quiet!), and eco-friendly.
The endless power of the sun
Solar power has many unique benefits and qualities that make it an excellent choice to power events. These are:
Solar is 100% emissions-free
Pairing solar with batteries can provide reliable, clean energy 24/7
Solar is silent, eliminating noise from a generator
For example, a 4 kW solar panel attached to a battery storage unit could completely power a section of a music festival. That way, festival-goers can enjoy days of amazing music without any generator noise interference, thanks to the silence of battery and solar power.
Additionally, solar panels are impressive to see - it can be exciting and inspiring for attendees to see that their event is being powered in a clean, sustainable way.
Mix-and-match to find the ultimate green solution
The greatest benefit of battery and solar is that the two resources can integrate to provide the greenest power supply for many major events.
Working together, the two can create a hybrid microgrid, a standalone version of a conventional power grid that directly supplies energy to a determined area. These microgrids are made up of locally produced energy from solar panels, a backup energy supply such as a mobile generator, and a portable battery storage system. This combination provides cheaper, cleaner and more reliable power.
As mentioned before, solar energy is economical and the cleanest renewable energy source available - once installed, power generation costs are almost zero - as are emissions! A good backup energy supply for when the sun isn't shining, like a generator, can be a suitable complement to solar power. Generators are the go-to choice for safe and stable electricity, especially in remote areas, and provide the ideal contingency plan when inclement weather affects solar panels. Furthermore, every year cleaner, more efficient fuels are introduced to the market, and portable generators that run on sustainable fuel sources are readily available.
Finally, intelligent battery storage is key for a stable and reliable hybrid power supply. It can store solar power for when it's needed and buffer the impact of fluctuating power demand and supply.
These hybrid microgrids are all individual, portable and modular power systems that can be mobilized and deployed just as quickly as they can be removed. Mix-and-match to create a hybrid and you've got a one-stop power solution for any event, whether you need it for a few days or a few months.
Conclusion
When it comes to events, there is no margin for error. Being in the public eye, the pressure to execute in a sustainable way is a serious challenge. But with the right mobile power solution, events can successfully support the global mission of a greener planet. Whether large or small, local or global - these new approaches to power can make a huge impact, enabling your event to run efficiently and at its cleanest, while giving attendees and exhibitors the satisfaction of knowing they were part of a forward-thinking event.
Comments (0)
This post does not have any comments. Be the first to leave a comment below.
---
Post A Comment
You must be logged in before you can post a comment. Login now.
Featured Product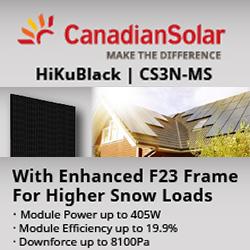 Aesthetic appearance for residential systems: With black backsheet & black frame, Power range 380 ~ 405 W, Low power loss in cell connection. Enhanced reliability: · Low temperature coefficient (Pmax): -0.34 % / °C, LID LeTID less than 2.0%, Lower hot spot temperature, Better shading tolerance.